English Language Teachers' Classroom Practices in Ibadan, Nigeria
Keywords:
Achievement, Assessment Techniques, Classroom Management, Motivation
Abstract
The focus of the research is to find out about the practice of English teachers in the classroom because teachers are the best model for students' acquisition of linguistic knowledge and what they do in class during the teaching and learning process. Although all English teachers are responsible for transferring linguistic expertise to students in class, their classroom practices differ. Therefore, this study qualitatively examines the classroom practice of English teachers in the Akinyele Local Government, Ibadan, Nigeria. This study adopted a mixed methods research design. The findings reveal that English teachers in Akinyele Municipality, Ibadan, Nigeria, use a traditional approach to teach students, paper and pencil tests primarily to assess students, engage in learning assessment and enforce classroom rules to manage their classrooms. Based on the findings, it is recommended that English teachers improve their classroom practices and update their teaching methods with modern ones.
Downloads
Download data is not yet available.
References
Adediwura, A.A and Bada, T. (2007). Perception of teachers' knowledge, attitude, and teaching skills as a predator of academic performance in Nigerian Secondary Schools. Educational Research and Reviews, 2(7), 105-171.
Akanbi, O. A. (2018). Teacher curriculum-awareness, effectiveness, and textbook content adequacy as predictors of students learning achievement in English oracy and literacy skills in Ibadan, Nigeria (PhD Thesis). Nigeria: Nigeria University of Ibadan.
Akinpelu, O.P. (2018) Teachers' use of questions in English Language classrooms in selected senior secondary schools in Ibadan, Oyo State (M.Ed. Project). Nigeria: University of Ibadan.
Amusan M. A. (2016) Cultivating effective pedagogical skills in in-service teachers: The role of
some teacher variables. Journal of the International Society for Teacher Education, 20(1), 83-89.
Ball, D.L., Thames, M.H. and Phelps, G. (2008). Content knowledge for teaching: what makes it special? Journal of Teacher Education, 59(5), 389-407.
Borg, M. (2001). Key concepts in ELT. Teachers' beliefs. ELT Journal, 55(2), 186-188.
Brophy, J. (2008). Developing students' appreciation for what is taught in school.
Darling-Hammond, L. (2000). Teacher quality and student achievement: A review of state policy
evidence. Education Policy Analysis Archives, 8(1), 1-44.
Dillon, J.T. (2008). Questioning and teaching: A manual of practice. New York: Teachers College
Press.
Digiulio, R. (2012). Positive classroom management (2nd ed.). Thousand Oaks, CA: Corwin
Press.
Dörnyei, Z. (2005). Teaching and researching motivation. Harlow: Longman.
Fakeye, D. (2012). Teacher's qualification and subject mastery as predictors of achievement in the English language in Ibarapapa division of Oyo state. Global Journal of Human-Social Science Research 12(3), 1-6.
Fan, W. (2017) Education and decision-making: an experimental study on the framing effect in China. Frontiers in Psychology 8, 744.
FRN (2004). National Policy on Education. 4th Edition, NERDC, Yaba Lagos.
Gardner, R. C. (2001). Integrative motivation and second language acquisition. In Z. Dornyei &
R. Schmidt (Eds.), Motivation and second language acquisition. Technical Report, Honolulu: University of Hawai'i, Second Language Teaching and Curriculum Center.
Guimaraes, R., Sitaram, A., Jardon, L., Taguchi, S. and Robinson, L. (2013). The Effect of Teacher
Content Knowledge on Student Achievement: a quantitative case analysis of six Brazilian states. Currículo: um diálogo necessary, 265-278.
Jibowo, A. V. (2012). An empirical investigation into Nigerian ESL learners' apprehension of grammar classes. Journal of English Language. Retrieved April 13, 2012, from http://www.ajol.info/index.php/marang/article/view/56815.
Kalu-Uche, N. (2010). Pedagogical Belief of Science Teachers in Rivers State and their Relationship to Classroom Practices. Unpublished PhD dissertation presented to the Faculty of Technical and Science Education, Rivers State University of Science and Technology, Port Harcourt.
Kalu-Uche, N., Alamina J. and Ovute, A.O. (2015). Pedagogical Practices in the Teaching of Science in Secondary Schools in Rivers State, Nigeria. Journal of Research in Humanities and Social Science 3(2), 50-55
Kamamia, L. N., Ngugi, N. T. and Thinguri, R. W. (2014). To establish the extent to which the subject mastery enhanced quality teaching to student-teachers during teaching practice. IJSL: International Journal of Education and Research 2(7), 614-648.
Khader, F. R. (2012). The Malaysian experience in developing national identity, multicultural tolerance, and understanding through teaching curricula. International Journal of Humanities and Social Science, 2(1), 270-288.
Khalid, Sheikh Mohamed Izzat Bin Sheikh Haji. et al. 2022. An Eye-Opening Experience with Visual Impairment Students' Environment in Brunei Darussalam. IJSL: International Journal of Social Learning, 3(1), 115 -130.
Kolawole, C. O. O., Olatunji, S. O., & Akanbi, O. O. (2015). Imperatives for successful implementation of English language curriculum in Nigerian secondary schools. Nigeria: Faculty of Education, University of Ibadan.
Kolawole, C.O.O. and Shittu, S.F. (2019). Language and literature methods. Nigeria: Distance Learning Centre, University of Ibadan.
Lawore, M.Y. (2017) Effects of dialogic reading and scaffolding instructional strategies on secondary school students' learning outcomes in English reading comprehension in Lagos, Nigeria. PhD Thesis. Nigeria: Teacher Education, University of Ibadan.
Linn, R. L. and Gronland, N. E. (2005). Measurement and Assessment in Teaching. Singapore: Pearson.
Marzano, R.J. (2003). Language, the language arts, and thinking. Handbook of Research on Teaching the English Language Arts, 2nd ed. Flood, Lapp, Squire, & Jensen, eds. Mahway. NJ: Lawrence Erlbaum Associates.
Mishra, S. (2022). Study Habits and Attitudes of Secondary School Students in India. IJSL: International Journal of Social Learning, 3(1), 20-30.
Muyunda et al. (2023). Teachers' Professional Development in Zambia: Perceptions and Practices. IJSL: International Journal of Social Learning, 3(2), 222-233.
Moore, H. (2008). "Who will guard the guardians themselves?" National interest versus factional corruption in policy-making for ESL in Australia; in J. W. Tollefson (ed.). Language Policies in Education. Lawrence Erlbaum, Mahwah, NJ.
Mokotedi, R. T. (2012). An Investigation Into Pedagogical Knowledge And Teaching Practices Of Reading Among Primary School Teachers In Botswana.
NERDC (2007) Nigerian Educational Research and Development Council. Senior secondary education curriculum English language for SS 1 – 3. Abuja.
Ossai, P. A. U. (2004). The dimensionality of West African senior school certificate examination in mathematics objective test items. Ph.D. Thesis, Delta State University, Abraka.Renninger, K. A. 2009. Interest and identity development in instruction: An inductive model. Educational Psychologist, 44(2), 1-14.
Olokooba, I. N. (2022). The Effect of Cooperative Computer-Assisted Instructional Package on Upper Basic Students' Performance in Social Studies. IJSL: International Journal of Social Learning, 2(3), 308-320.
Olowoyeye, C. A. and Alonge, S. G. (2014). Teachers' Characteristics as Predictors of Students' Learning Outcomes in General English in College of Education, Ikere Ekiti, Nigeria. Journal of Research in Education and Society, 5(2). 39-43.
Pingol, Katrisha Faye G. (2022). Learners' Perceptions and Preferences Distance Learning in the New Normal Era. IJSL: International Journal of Social Learning, 3(1), 1-19.
Sunday-Piaro, M. (2018). Classroom Management and Students' Academic Performance in Public Secondary Schools in Rivers State, Nigeria. International Journal of Scientific Research in Education, 11(5), 940-963.
Taylor, B. M., Pearson, P. D., Clark, K. F. and Walpole, S. (2000). Effective schools and accomplished teachers: Lessons about primary-grade reading instruction in low-income schools. The Elementary School Journal, 101, 121-166.
Wilson, P. L. (2011). Pedagogical practices in the teaching of English language in secondary public schools in Parker County. College Park: University of Maryland.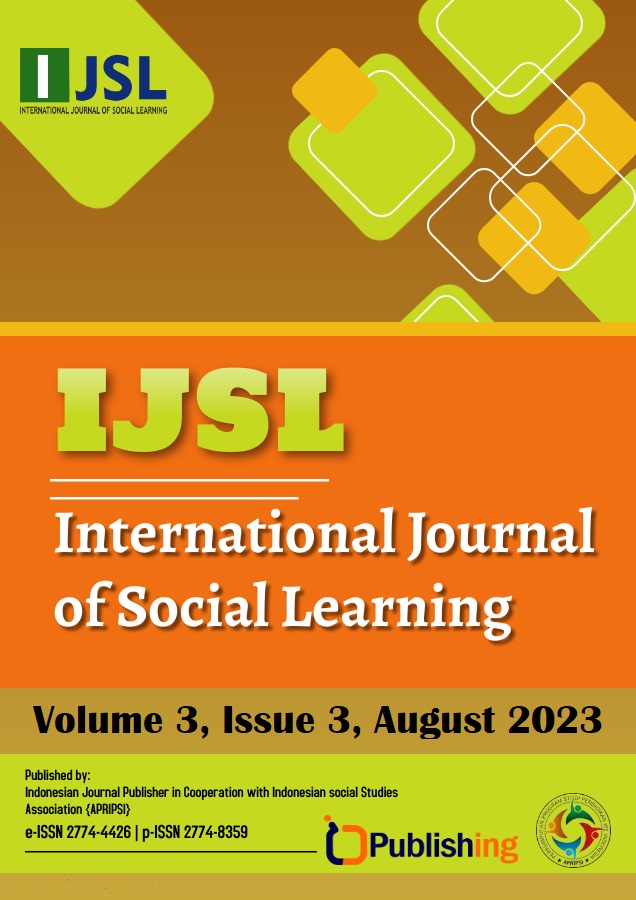 Downloads
How to Cite
Olaosebikan, B. O. ., & Kolawole, C. (2023). English Language Teachers' Classroom Practices in Ibadan, Nigeria. International Journal of Social Learning (IJSL), 3(3), 261–280. https://doi.org/10.47134/ijsl.v3i3.88