Content Adequacy of Oral Literature in Selected English Studies Textbooks: Implications for Inculcating Moral Values into In-School Adolescents
Keywords:
Oral Literature, Textbooks, Language, English Studies, Moral Values
Abstract
Textbooks are essential resources in the teaching-learning process. The integration of English language and literature called English Studies at the junior secondary schools in Nigeria has brought about textbooks incorporating both language and literature (oral and written) components. This study was carried out to analyze the content adequacy of oral literature incorporated in New Oxford Secondary English Course for Junior Secondary Schools and New Concepts English Textbooks and investigate teachers' perceptions. Book one to three of the two textbooks was purposively selected because they were used in the selected junior secondary schools for this study. The study, hence, adopted a mixed-methods of data collection and analysis. The textbooks selected were content analyzed by drawing out their oral literature components. Quantitative data were collected using a self-constructed questionnaire from 50 teachers of English studies randomly selected across 25 junior secondary schools in the Ibadan metropolis. The content analysis done of the selected textbooks was compared with the teachers' perception of the adequacy of the textbooks in inculcating moral values into students. The study recommended, among others, that English teachers at the junior secondary school level should actively implement the oral literature content of the English studies textbook with the use of appropriate teaching methods, strategies, and instructional materials.
Downloads
Download data is not yet available.
References
Adeoye, Adam, Eto, Eyisi J., Adekunle & Adepoju (2018). New Concept English for Junior Secondary Schools Bk 1-3. Lagos: Learn Africa Publishers.
Adeyinka, A.A. &Adegbodu, Z.O. (2018). The Metaphysical and Emotional Impact of Oriki in Yoruba Belief: A Case Study of Alaafin of Oyo. Akungba Journal of Linguistics and Literatures 9 (Special Edition), 73-82.
Agbo, D.C. (2010). The Rise and Fall of Education Standard in Nigeria: Implication and the Way Forward. Enugu: El Denmrk Publishers.
Akinnawonu, B.M. (2018), TheEpistemologyical and Ethical Significance of the Yoruba Concepts of Omoluabi. Akungba Journal of Linguistics and Literatures 9 (Special Edition), 26-31.
Akporobaro F.B.O.(2006). Introduction to African Oral Literature. Lagos: Princeton Publishing Company.
Amin Mt, M. & Ahmed, T. (2021). Challenges Faced by Teachers about Inculcating Islamic Values: Pilot Inquiry. International Journal of Social Learning 1 (2), 135-146. Retrieved June 3, 2021, from DOI: https://doi.org/10.47134/ijsl.v1i2.11
Banjo, A. Adeniran, A. Akano, A.&Onaga, U. (2018).New Oxford Secondary English Course for Junior Secondary Schools, 1-3.Ibadan: University Press PLC.
Egbochukwu, E.O. &Aihie, N.O. (2007). Influence of Peer Group, Counseling and Family Type on Self-Concept of Secondary School Adolescents in Benin City. African Journal of Studies in Education, 3 (1), 48-58.
Fafunwa, A.B. (1991).History of Education in Nigeria. Onitsha: NPS Educational Publishers Limited.
Falola, T. &Akinyemi, A. (2016). Encyclopedia of the Yoruba. USA: Indiana University Press.
Hornby, A.S. (2005). Oxford Advanced learner's University Press. Dictionary of Current English. Oxford University Press
Igbinoria, L. (2004). Challenges in Higher Education in Nigeria. Unpublished paper, Ibadan, July 21.
Lindfors, B. (2002). Folklore in Nigerian Literature. Ibadan: Caltrop.
Nnyagu, U. (2017). The Nature of Oral Literature: Concepts and Genres. Scholars Journal of Arts, Humanities and Social Sciences.5 (9), 1149-115
Nwakaego, N. (2016). Oral Literature as a Spring-Board for Value Inculcation to Children. British Journal of Education 4 (11), 1-10.
Okebukola, P. (2012). Moral Instruction in Nigerian Schools for National Transformation. Address delivered at the prize-giving day and Valedictory Service of Preston International School, Akure, Nigeria.
Okoh, N. (2008).Preface to Oral Literature. Port Harcourt: Lamison Publishers.
Orotoye, T.A. (2019). The Symbolic Role of Oral Poetry in the Sustainability of African Socio-cultural Space: Example of the Oriki of Oluwo of Iwo. First Conference of the International Association of Language Educators, 12-15 September 2019, Ile-Ife Nigeria. Pantic, N. (2006). Moral Education Through Literature. 38(2), 401-414.
Uche, A. N. (2000). New Perspective in Moral Education. Ibadan: Evans Brother Nig.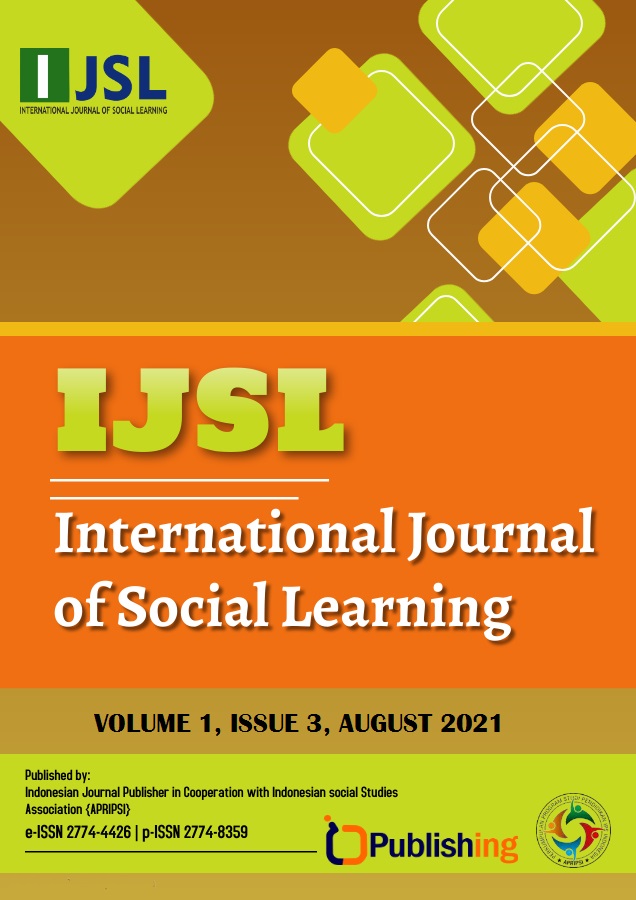 Downloads
How to Cite
Akinsola, I. T., & Olaosebikan, B. O. (2021). Content Adequacy of Oral Literature in Selected English Studies Textbooks: Implications for Inculcating Moral Values into In-School Adolescents. International Journal of Social Learning (IJSL), 1(3), 250–259. https://doi.org/10.47134/ijsl.v1i3.44