Zoning System Policy Model in Accepting New Students in Indonesia
Keywords:
Policy Implementation, Student Recruitment, Zoning System
Abstract
This study aims to see and describe the implementation of the Van Meter and Van Horn policy models. The results of this study are: 1) Implementation and communication activities between policy implementing organizations have been implemented, but the results have not been optimal, 2) The characters of Public Senior High School  2 Ciamis as implementers have understood the policy context well, are consistent with the goals and objectives and Policy objectives, implement prospective students firmly and strictly on policy rules, and supervise Zoning System policies following student recruitment technical guidelines and SOP, but the results are optimal, 3) The disposition as policy implementers has not seen what to do, can do these policies and have the commitment to implement student recruitment policies for optimal system zoning systems, 4) Social, economic and political conditions have influenced policy policies, 5) The zoning of system policy implementation has a positive impact on service policies and the quality of education services. This research concludes that Public Senior High School 2 Ciamis has implemented a zoning system policy, but it has yet to be optimal.
Downloads
Download data is not yet available.
References
Bakar, K. A. A., Supriyati, Y., & Hanafi, I. (2019). The Evaluation of Admission Student Policy Based on Zoning System for Acceleration Education Quality in Indonesia. Journal of Management Info, 6(2).
Borowska-Beszta, B., & Urban, R. (2014). A case study of cognitive-educational support for elderly female with Alzheimer's disease. International Research Journal for Quality in Education, 1(6).
Cloete, J. J. N. (1982). Administrative requirements for development." In Coetzee, W A J (ed). The administrative future of the Natal region: proceedings of a symposium. Durban: University of Durban-Westville.
Dewi, K. E., & Septiana, R. (2018). Evaluation of Zoning Student Recruitment System in Year 2018. Proceeding International Seminar on Education Innovation Issues and Challenges in Education for Education Sustainability Universitas Sarjanawiyata Tamansiswa., (August), 109–115.
Djunaedi, Ahmad, dkk, (2011). Peraturan Zonasi: Peran Dalam Pemanfaatan Ruang dan Pembangunan Kembali di Kawasan Rawan Bencana, Kasus: Arkadelphia City, Arkansas USA. Jurnal Forum Teknik, 34(1).
Efendi, Rustam dkk (2020). A Study of the Implementation of the Policy for Strengthening Character Education in Donggala District, International Journal of Graduate Research and Review, 6(2), 47-52.
Husaini, U. (2014). Manajemen: Teori, Praktek, Riset, Dan Pendidikan. Yogyakarta: Bumi Aksara.
Hoerudin, C. W. (2019). Evaluation of New Students Admission Policy Based on Zonation System in Bandung City. Jispo, 9(2).
Ibrahim, Wahyuni, etc (2020). The Effectiveness of Implementing the New Student Admissions Policy Through The Zoning System at the Education and Culture Office of Gorrontalo Regency. Jurnal Ilmu Manajemen dan Bisnis, 9(1), 41-49.
Iqbal, Muhammad et.al (2021). Implementation of the Zoning System Policy in Bulukumba Regency. Jurnal Administrare, 8(1).
Ali Abu Bakar, Kosasih, etc (2019). Evaluation of Admission Student Policy Based on Zoning System for Acceleration Education Quality in Indonesia. Journal of Management Info, 6(2), 19-24. Doi: 10.31580/jmi.v6i2.883.
Kurniawan, John, etc (2021). Analysis of Policy Implementation on The Duties and Functions of the Cabinet Secretariat (Case Study: Function of Policy Recommendation). Publik Jurnal Ilmu Administrasi, 10(1), 78-95. http://dx.doi.org/10.31314/pjia.10.1.78-95.2021.
Langkai, J. E., Akib, H., Musa, I. C. T., & Naharia, U. (2019). The Implementation of Environment-Based Program (PBL) To increase community welfare in Manado City. Odisha Journal of Social Science, 2(2), 19-39.
Latifah, P., & Fattah, N. (2017). Analisis Kebijakan Pendidikan. Bandung: Remaja Rosdakarya.
Mthethwa, R. M. (2012). Mthethwa_Critical (2012). Critical Dimensions for Policy Implementation. African Journal of Public Affairs, 5(2), 36–47.
Marume, etc. (2016). An Analysis of Public Policy Implementation. IOSR Journal of Business and Management, 18(4), 86-93. Doi: 10.9790/487X-1804018693.
Martin. (2020). The Implementation of New Student Admission Service Zoning System in Pontianak. Good Policy or Bad Policy (Parents Perspective). Raheema Jurnal Gender dan Anak, 7(1), 30-55.
Musa, M. (2019). An analysis of quality assurance key performance indicators in research in Ugandan Universities. International Journal of Instruction, 12(1), 1567-1584. Doi:10.29333/iji.2019.121100a.
Nima, Shakouri, (2014). Qualitative Research: Incredulity toward Metanarrativeness. Journal of Education and Human Development, 3(2), 671-680.
Prapto, Y, etc. (2019). Implementation of Community Policing Policy in Creating General security and Order in the City of Bandung. West Java Province. Journal of Public Administration and Governance, 9(2), 387-406.
Saharuddin, E, et.al (2020). Zonation System Policy Implementation In Admission of New Students at The High School Level in The Special Region of Yogyakarta. Journal Dinamika: Jurnal Ilmiah Ilmu Administrasi Negara, 7(3), 424-438.
Savitri, Vania Mutiara & Yuris Tri Naili (2020). Henry Mintzberg's Business Management Strategy Post-Pandemic Covid-19 (Social Learning Approach on Ali Murah Shop Madinah). International Journal of Social Learning, 1(1).
Salsabila, et.al (2020). The Implementation of Zoning Policy at The Senior High Schools in Bandar Lampung City. Journal of Kybernology, 5(1).
Sularto, Wahyudi, Sukmawati, (2018). The Admission of New Students Based on Online System at SMAN 2 Singkawang. Journal of Education and Learning, 3(2), 336-341.
Van Meter, Donald S. and Van Horn, Carl E., (1975). The Policy Implementation Process. A Conceptual Framework. Creative Education, 6(4), 445-488. https://doi.org/10.1177/009539977500600404.
Van Meter, D. S. and H. B. Asher (1973). Causal analysis: its promise for policy studies. Policy Studies Journal, 2(2), 103-109. Doi:10.1111/j.1541-0072.1973.tb00135.x.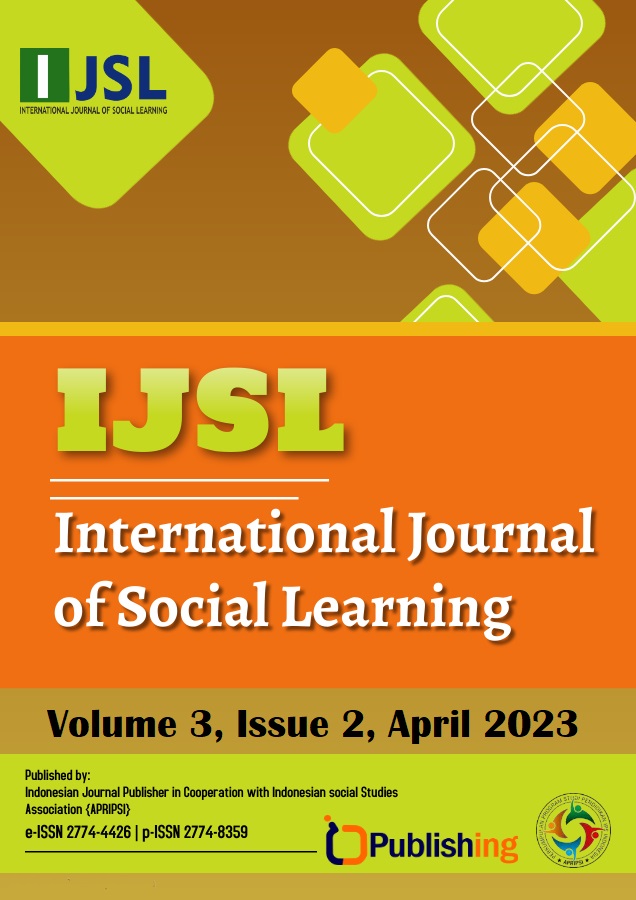 Downloads
How to Cite
Kosasih, F., Rochmani, R., & Folia, R. C. . (2023). Zoning System Policy Model in Accepting New Students in Indonesia . International Journal of Social Learning (IJSL), 3(2), 131–146. https://doi.org/10.47134/ijsl.v3i2.21