Analysis of Singgahan-Tuban Karst Geopark as a Social Science Learning Resource Facility in Outdoor Learning Activities
Keywords:
Karst Geopark, Social Science Learning, Outdoor Learning, SWOT
Abstract
This study aimed to explore the potential of geopark karst as a source of social studies learning in outdoor learning activities. The subjects of the study were 25 social studies teachers. Primary data in the form of direct observation and participation in the field, as well as the results of interviews with several key informants and supporters. Data analysis was obtained through three stages: data reduction, data presentation, and concluding. The following analysis technique uses SWOT analysis which produces a strategy formulation in utilizing the karst potential of the Singgahan Geopark as a source of social studies learning in outdoor learning activities. The most significant potential strength factor is the many variations of population adaptation to karst phenomena in outdoor learning locations, so it is interesting to study from the aspect of social interaction and the environment.
Downloads
Download data is not yet available.
References
Ardoin, N. M. (2006). Toward an Interdisciplinary Understanding of Place: Lessons for Environmental Education, Canadian Journal of Environmental Education (CJEE), 11 (1), 53-67.
Assaraf, O., & Orion, N. (2010). Four Case Studies Six Years Later: Developing Systems Thinking Skills in Junior High School and Sustaining Them Over Time, Journal of Research in Science Teaching, 47(10), 1253-1280.
Beames. S, Higgins. P, & Nicol. R. (2012). Learning Outside the Classroom. Theory and Guidelines for Practice. Newyork and London: Routledge.
Booth-Sweeney, L. (2017). All Systems go. in Developing a Generation of Systems Smart Kids. Retrieved from http:// lindaboothsweeney.net/SOW17_chap12_systems-thinking.pdf
Del Rosario, A,G and Galang, C,P. (2021). Thriving Amidst the Pandemic: Examining the Lived Experiences of Work from Home Filipino Teachers. International Journal of Social Learning. 2 (1), 39-54.
Dyment, J. E., Chick, H. L., Walker, C. T., & Macqueen, T. P. N. (2018). Pedagogical Content Knowledge and the Teaching of Outdoor Education. Journal of Adventure Education and Outdoor Learning, 18(2):1-20, https://doi.org/10.1080/14729679.2018.1451756.
Hardani, Auliya, N. H., Andriani, H., Fardani, R. A., Ustiawaty, J., Utami, F. E., et al. (2020). Metode Penelitian Kualitatif dan Kuantitatif. Yogyakarta: Penerbit Pustaka Ilmu.
Hill, A. (2012). Developing Approaches to Outdoor Education that Promote Sustainability Education. Australian Journal of Outdoor Education, 16(1), 15–27.
Januszewski. A & Molenda. M. (2008). Educational Technology: A Definition with Commentary. New York: Routledge.
Juniati, E., & Sari, W.P. 2016. Integrasi Potensi Lokal Pada Pembelajaran SL Terhadap Pembentukan Learner Softskills Untuk Memecahkan Permasalahan Lingkungan. Makalah Disajikan Pada Symposium on Biology education, Prodi Pendidikan Biologi, FKIP, Universitas Ahmad Dahlan.
Keynan, A., Assaraf, OBZ, & Goldman, D. (2014). The Repertory Grid as a Tool for Evaluating the Development of Students' Ecological System Thinking Abilities. Studies in Educational Evaluation. 41 (1), 90–105.
McKeown, R. 2002. ESD Toolkit. Retrieved. http://www.esdtoolkit.org/
Miles, M. B., Huberman, M., & Saldana, J. (2020). Qualitative Data Analysis-A Methods Sourcebook -4th edition. London: SAGE.
Ministry of Social. (2020). Annual Report
Prasetya, S.P. Segara N.B, Imron A. (2020). Effectiveness Of Outdoor Learning Optimization Program In Learning Social Studies, JPI (Jurnal Pendidikan Indonesia), 9 (2), 314-327.
Rangkuti, F. (2015). SWOT Analysis. Jakarta : PT Gramedia Pustaka Utama.
Rickinson, M., Dillon, J., Teamey, K., Morris, M., Young Choi, M., Sanders, D., & Benefield, P. (2004). A Review of Research on Outdoor Learning. National Foundation for Educational Research and King's College London. Retrieved from https://www.field-studies-council.org/media/268859/2004_a_review_of_research_on_outdoor_learning.pdf.
Rojuli, S. (2016). Strategi Pembelajaran Pendidikan IPS. Surabaya: CV Garuda Mas Sejahtera.
Sarwono. J. (2018). Statistics for Thesis Research. Yogyakarta: ANDI.
Schuler, S., Fanta, D., Rosenkraenzer, F., & Riess, W. (2018). Systems Thinking Within The Scope of Education for Sustainable Development (ESD)- A Heuristic Competence Model as a Basis for (Science) teacher education. Journal of Geography in Higher Education, 42(2), 192–204.
Shanie, Arsan. (2020). Art Education Phenomena in The School Environment (a case study of the application of art education in a school environment). International Journal of Social Learning. 1 (1), 35-41.
Sujarwo. (2017). Penanaman Nilai-Nilai dalam Pendekatan Saintifik pada Pembelajaran Ilmu Pengetahuan Sosial (Studi Kasus Pembelajaran IPS di SMP 37 Jakarta Selatan), Edukasi IPS, 01(1), 41–52. https://doi.org/https://doi.org/10.21009/EIPS.01102.
Webster, M., Jr., & Sell, J. (2014). Laboratory Experiments in the Social Sciences (2nd ed.). London: Elsevier Academic Press.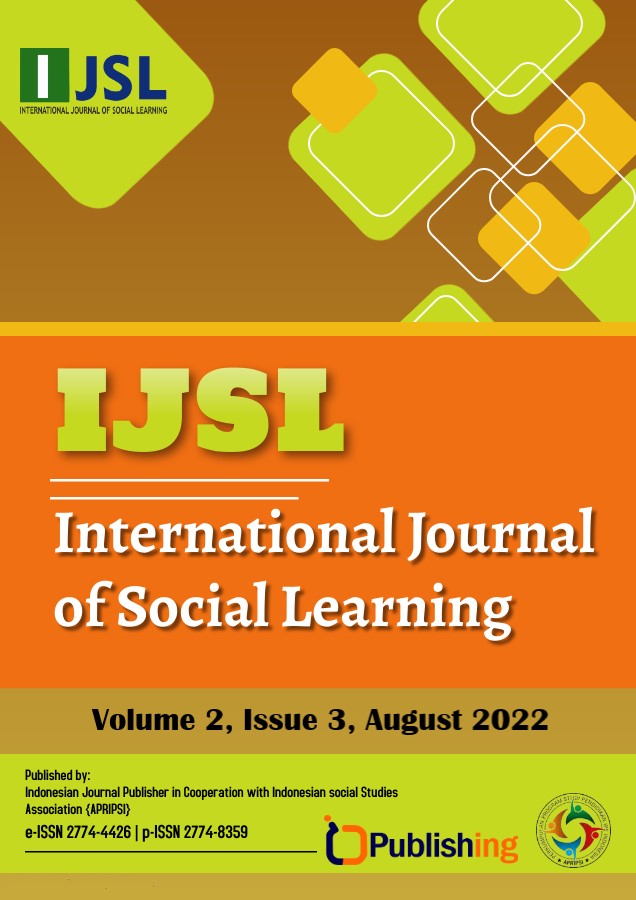 Downloads
How to Cite
Prasetya, S. P., Sarmini, S., Zein, I. M., Artono, A., Sadewo, F. S., & Mahat, H. (2022). Analysis of Singgahan-Tuban Karst Geopark as a Social Science Learning Resource Facility in Outdoor Learning Activities. International Journal of Social Learning (IJSL), 2(3), 321–337. https://doi.org/10.47134/ijsl.v2i3.169