Confucius' Education Thoughts and Its Influence on Moral Education in China
Keywords:
Confucius Educational Thoughts, Moral Education, Philosophy, China
Abstract
This systematic review aimed at exploring Confucius' thoughts and influence on moral education in China. The study results show that ancient Chinese educational thoughts of moral education could be said to have three dimensions: goal, main contents, and teaching methods described in this paper. An analysis of the key elements of Confucius' educational thought's on moral education reveals that the purpose of moral education in ancient China was to cultivate a totally virtuous individual ('Junzi')., while as the concept of benevolence ('Ren') is considered the foundation of Confucius' moral, educational thoughts, while the concept of etiquette ('Li') is the external form of 'Ren.' Both of them are fundamental to Confucius' ideas on moral education. Confucius' moral education includes numerous teaching approaches, such as self-cultivating, individual instruction, enlightenment, and practice, which are presented in this paper. Furthermore, this paper concludes by arguing that Confucius's educational thoughts on moral education provide a significant reference for contemporary education in todays' China and has enduring value for research and practice in contemporary moral education in the 21st century.
Downloads
Download data is not yet available.
References
Ames, R. (2011). Confucian role ethics: A vocabulary. University of Hawaii Press. Chambliss, J. J. (1974). Imagination and Reason in Plato, Aristotle, Vico, Rousseau, and Keats: An essay on the philosophy of experience. Martinus Nijhoff.
Chen, L. (2016). The ideas of 'educating' and 'learning' in Confucian thought. In X. Di & H. McEwan (Eds.), Chinese philosophy on teaching and learning (pp. 77–96). State University of New York Press.
Cheng, C. (2005). Confucian ren and Deweyan experience: A review essay on Joseph Grange's John Dewey, Confucius, and the global philosophy. Journal of Chinese Philosophy, 32, 641–648.
Cheng, B. Y. (2010). Analysis on the meaning of 'Junzi' in the Analects of Confucius. Chinese Culture Tribune, (1), 70-74. Disciples of Confucius. (540 BC-400 BC). The analects of Confucius: Book 1-book 20.
Confrey, J. (1990). What constructivism implies for teaching. In R. B. Davis, C. A. Maher, & N. Noddings (Eds.), Constructivist views on the teaching and learning of mathematics (pp. 107–122). National Council of Teachers of Mathematics.
Cua, A. (1979). Dimensions of li (propriety): Reflections on an aspect of Hsun Tzu's ethics. Philosophy East and West, 29, 373–394z.
Kadar,D (2017). The role of ideology in evaluations of appropriate behaviour in student-teacher relationships in China. Pragmatics 27 (1), 33-56.
Mutschler, F.H. (2019) Comparing Confucius and Cicero: Problems and Possibilities. In: Balbo, A. and Ahn, J., Eds., Confucius and Cicero, De Gruyter, Berlin, 7-26. https://doi.org/10.1515/9783110616804.
Shen, S. H., Wang, F. X. (2006). Chinese ethics history (P263), Beijing: People's Publishing House.
Shen, D. H. (2008). Moral education thoughts of Confucius and the enlightenment. The journal of educational exploration, 12, 3-5.
Tan, C. (2017) To Be More Fully Human: Freire and Confucius. Oxford Review of Education, 44, 370-382. https://doi.org/10.1080/03054985.2017.1391763.
Xie, Y. and Chen, G.E. (2013) Confucius' Thoughts on Moral Education in China. Cross-Cultural Communication, 9, 45-49. http://doi.org/10.3968/j.ccc.1923670020130904.2659.
Zhao, W. (2017) Observation as China's Civic Education Pedagogy and Governance: A Historical Perspective and Dialogue with Michel Foucault. Discourse: Studies in the Cultural Politics of Education, 40, 789-802. https://doi.org/10.1080/01596306.2017.1404444.
Zhao, J. (2013) Confucius as a Critical Educator: Towards Educational Thoughts of Confucius 2013. Frontiers of Education in China, 8, 9-27. https://doi.org/10.1007/BF03396959.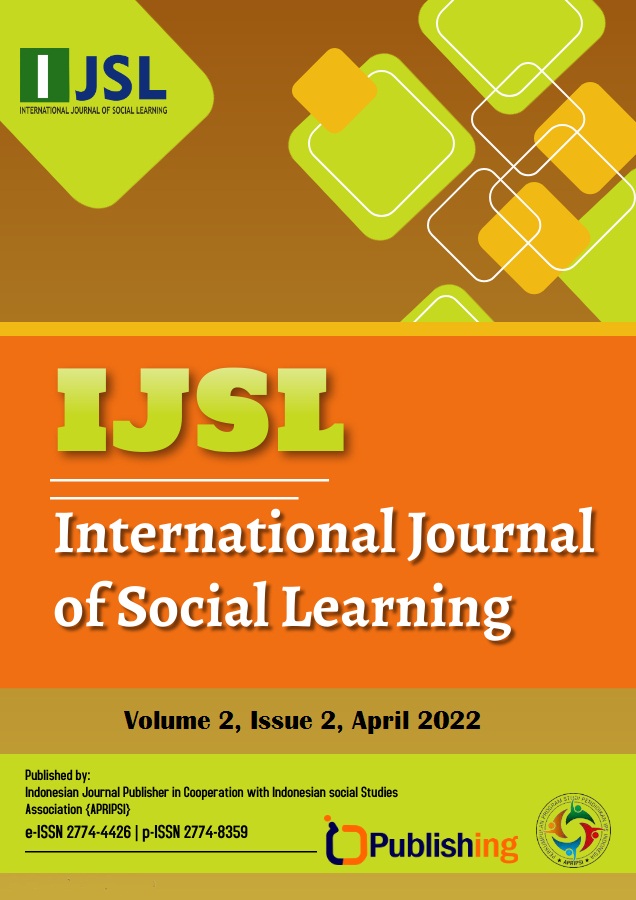 Downloads
How to Cite
Muyunda, G., & Yue, L. . (2022). Confucius' Education Thoughts and Its Influence on Moral Education in China. International Journal of Social Learning (IJSL), 2(2), 250–261. https://doi.org/10.47134/ijsl.v2i2.141