Digitalization of Modules and Learning Tasks for Flexible, Convenient, And Safe Learning Experience of Students
Keywords:
Digital Modality, Google Classroom, Learning Management System, Online Applications, Pandemic
Abstract
The qualitative research design aims to explore the experiences of Grade 10 students as they were dealing with the new normal of education utilizing a digital modality. This study sheds light on other ways and means of learning and adapting to the modern world using technology. Based on the study's results, five superordinate themes have emerged: flexible, convenient, and safe learning environment, submission challenges, and innovation policy. The digital modality has a substantial impact on the learning of the students.  However, they sometimes have difficulty submitting outputs due to a slow internet connection. To reiterate, learning in digital modality is a great help student to in learning capabilities and adapting to change in education and being versatile in learning new different online platforms in simplifying the process and avoiding viruses to spread and becomes safe individual learns and further enhances learning in the modern world of education.
Downloads
Download data is not yet available.
References
Abante, A. S. (2021). A Comparative Analysis on the Challenges of Online Learning Modality and Modular Learning Modality: A Basis for Training Program. International Journal of Multidisciplinary Research and Analysis, 04(04). https://doi.org/10.47191/ijmra/v4-i4-17.
Akpunonu, H. N., & Fomsi, E. (2021). Perception of Undergraduate Students towards the Use of Google Classroom Application for Online Learning in the 21st Century. British Journal of Education, 9(8), 20–34. https://papers.ssrn.com/sol3/papers.cfm?abstract_id=3905127.
Albashtawi, A., Albashtawi, A., & Bataineh, K. Al. (2020). The Effectiveness of Google Classroom Among EFL Students in Jordan: An... International Journal of Emerging Technologies in Learning (IJET), 15(11), 78–88.
Ancho, I. (2020). Graduate Education during COVID-19 Pandemic: Inputs to Policy Formulation in the New Normal. Recoletos Multidisciplinary Research Journal, 8(2), 87–105. https://doi.org/10.32871/rmrj2008.02.07.
Ardies, J., De Maeyer, S., Gijbels, D., & van Keulen, H. (2015). Students attitudes towards technology. International Journal of Technology and Design Education, 25(1), 43–65. https://doi.org/10.1007/s10798-014-9268-x.
Arifianto, C. F., Mutawali, & Subekti, H. (2021). The Teachers' Online Readiness: an evaluation of Online Learning during Covid-19 Pandemic in Indonesia. International Journal of Social Learning (IJSL), 1(3), 270–282. https://doi.org/10.47134/ijsl.v1i3.63.
Arrieta, G. (2020). The Experiences Of Junior High School Teachers In Online Teaching And Learning During Enchanced Community Quarantine : Inputs For The Learning Continuity Plan For The New Normal In Education. August. https://www.researchgate.net/publication/343523387_The_Experiences_Of_Junior_High_School_Teachers_In_Online_Teaching_And_Learning_During_Enchanced_Community_Quarantine_Inputs_For_The_Learning_Continuity_Plan_For_The_New_Normal_In_Education.
Bando, R., Gallego, F., Gertler, P., & Fonseca, D. R. (2017). Books or laptops? The effect of shifting from printed to digital delivery of educational content on learning. Economics of Education Review, 61, 162–173. https://doi.org/10.1016/J.ECONEDUREV.2017.07.005.
Butina, M. (2015). A Narrative Approach to Qualitative Inquiry. American Society for Clinical Laboratory Science, 28(3), 190–196. https://doi.org/10.29074/ascls.28.3.190.
Culajara, C. J. (2022). Maximizing the Use of Google Sites in Delivering Instruction in Physical Education Classes. 1(2), 79–90. https://doi.org/10.56003/pessr.v1i2.115.
Culajara, C. J. (2022). The Labyrinth of Multitask Teachers in Learning and Working Environment in Times of Pandemic. International Multidisciplinary Research Journal, 4(1), 100–108. https://doi.org/10.54476/iimrj13.
De Villa, J. A., & Manalo, F. K. B. (2020). Secondary Teachers' Preparation, Challenges, and Coping Mechanism in the Pre-Implementation of Distance Learning in the New Normal. IOER International Multidisciplinary Research Journal, 2(3), 144–154. https://doi.org/10.5281/zenodo.4072845.
Dimaculangan, K. A., Hadji Abas, H., & Quinto, C. S. (2022). Narrative Study of Teaching Strategies and Challenges Encountered by Teachers in Synchronous Online Classes. International Journal of Social Learning (IJSL), 2(2), 201–216. https://doi.org/10.47134/ijsl.v2i2.113.
Domínguez-Lloria, S., Fernández-Aguayo, S., Marín-Marín, J. A., & Alvariñas-Villaverde, M. (2021). Effectiveness of a collaborative platform for the mastery of competencies in the distance learning modality during covid-19. Sustainability (Switzerland), 13(11). https://doi.org/10.3390/su13115854.
Fitriningtiyas, D. A., Umamah, N., & Sumardi. (2019). Google classroom: as a media of learning history. IOP Conference Series: Earth and Environmental Science, 243(1), 012156. https://doi.org/10.1088/1755-1315/243/1/012156.
Graham, M. J., & Borgen, J. (2018). Google Classroom. Google Tools Meets Middle School, 3, 23–36. https://doi.org/10.4135/9781506360188.n3.
Heggart, K. R., & Yoo, J. (2018). Getting the most from google classroom: A pedagogical framework for tertiary educators. Australian Journal of Teacher Education, 43(3), 140–153. https://doi.org/10.14221/ajte.2018v43n3.9.
Izenstark, A., & Leahy, K. L. (2015). Google classroom for librarians: features and opportunities. Library Hi Tech News, 32(9), 1–3. https://doi.org/10.1108/LHTN-05-2015-0039/FULL/XML.
Izwan, Jastini, & Sarah. (2016). The Application of Google Classroom as a Tool for Teaching and Learning. Journal of Telecommunication, Electronic and Computer Engineering, 8(10), 5–8.
Sudarsana, K. I., Bagus Made Anggara Putra, I., Nyoman Temon Astawa, I., & Wayan Lali Yogantara, I. (2019). The use of Google classroom in the learning process. Journal of Physics: Conference Series, 1175(1), 012165. https://doi.org/10.1088/1742-6596/1175/1/012165.
Kumar, V., & Sharma, D. (2016). Creating Collaborative and Convenient Learning Environment Using Cloud-Based Moodle LMS: An Instructor and Administrator Perspective. International Journal of Web-Based Learning and Teaching Technologies, 11(1), 35–50. https://doi.org/10.4018/IJWLTT.2016010103.
Okmawati, M. (2020). The Use of Google Classroom during Pandemic. Journal of English Language Teaching, 9(2), 438. https://doi.org/10.24036/jelt.v9i2.109293.
Pendidikan Bahasa dan Seni, F., Nyoman Tri Darma Putra English Lecturer, I., & Tinggi Pariwisata Mataram, S. (2020). Students' Attitudes in Learning English for Tourism Using Google Classroom in Mataram Tourism College. Jo-ELT (Journal of English Language Teaching) Fakultas Pendidikan Bahasa & Seni Prodi Pendidikan Bahasa Inggris IKIP, 7(1), 9–17. https://doi.org/10.33394/JO-ELT.V7I1.2735.
Ravelli, L. J., & Van Leeuwen, T. (2018). Modality in the digital age: Https://Doi.Org/10.1177/1470357218764436, 17(3), 277–297. https://doi.org/10.1177/1470357218764436.
Sami, F., & Sant, A. (2017). Related Papers. Over The Rim, 191–199. https://doi.org/10.2307/j.ctt46nrzt.12.
Shapley, K., Sheehan, D., Maloney, C., & Caranikas-Walker, F. (2011). Effects of Technology Immersion on Middle School Students' Learning Opportunities and Achievement. Http://Dx.Doi.Org/10.1080/00220671003767615, 104(5), 299–315. https://doi.org/10.1080/00220671003767615.
Sukmawati, S., & Nensia, N. (2019). The Role of Google Classroom in ELT. International Journal for Educational and Vocational Studies, 1(2), 142–145. https://doi.org/10.29103/ijevs.v1i2.1526.
Suparman, A., Danim, S., Nirwana, N., Kristiawan, M., & Susanto, E. (2022). The Effect of Using Google Classroom and Whatsapp Applications on Learning Activities. Education Quarterly Reviews, 5(1). https://doi.org/10.31014/aior.1993.05.01.434.
Talidong, K. J. B., & Toquero, C. M. D. (2020). Philippine Teachers' Practices to Deal with Anxiety amid COVID-19. Journal of Loss and Trauma, 25(6–7), 573–579. https://doi.org/10.1080/15325024.2020.1759225.
Widyaningrum, H. K., Hasanudin, C., Fitrianingsih, A., Novianti, D. E., Saddhono, K., & Supratmi, N. (2020). The use of Edmodo apps in flipped classroom learning. How is the students' creative thinking ability? Ingenierie Des Systemes d'Information, 25(1), 69–74. https://doi.org/10.18280/ISI.250109.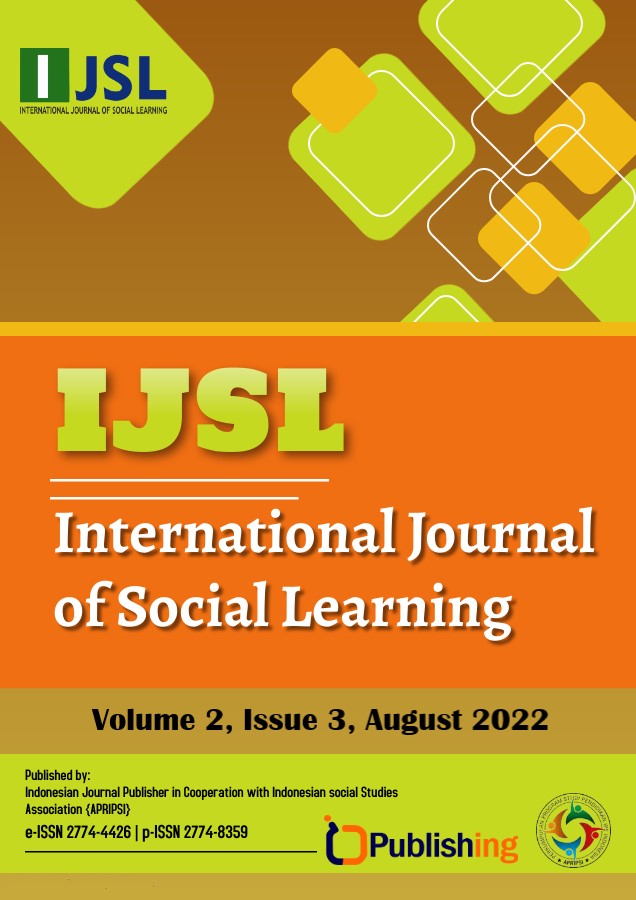 Downloads
How to Cite
Culajara, C. J., Culajara, J. P. M., Portos, O., & Villapando, M. K. (2022). Digitalization of Modules and Learning Tasks for Flexible, Convenient, And Safe Learning Experience of Students. International Journal of Social Learning (IJSL), 2(3), 350–365. https://doi.org/10.47134/ijsl.v2i3.172