The Quality of Supervision and Assessment in Industry-Based Learning
Nduduzo Phuthi

National University of Science and Technology, Zimbabwe

Lungisani Mpofu

National University of Science and Technology, Zimbabwe
Keywords:
Industry-Based Learning, Work-Integrated Learning, Participative Assessment, Supervision and Assessment, Quality
Abstract
Effective student assessment measures the rigor, effectiveness and quality of learning and teaching. There is a persistent concern among higher education practitioners about the accuracy and quality of academic supervision and assessment, particularly in areas of experiential learning. The purpose of this study was to critically evaluate practitioner conceptions on the effectiveness of supervision and assessment practices of industry-based learning in enhancing quality academic practices carried out at five universities in Zimbabwe. This paper analyses stakeholder views, reflections and understandings on student supervision and assessment processes in industry-based learning programs in Zimbabwe universities.  Through interviews, focus group discussions, and open and closed questions in structured questionnaires, the participants in the mixed methods study, drawn from universities and their workplace partner organizations, give insights into their activities that characterize the dominant student supervision and assessment practices. The research results show that the participants were moderately satisfied with the overall assessment processes, raising concerns on quality issues, supervisor qualities and competencies, assessment visits by lecturers, and student guidance in the workplace. It is evident that the assessment systems in the work-integrated learning program in the affected universities not only compromised the desired confidence and trust of the students in their assessors but unsettled the assessors themselves, a situation that would naturally invite appropriate corrective action. Participative assessment, an approach where the facilitator seeks to directly involve and share the responsibility for assessment with learners is compatible with industry-based learning approaches because students can engage in self-regulation and intrinsically sanctioned learning.
Downloads
Download data is not yet available.
References
Bandy, J. (2011). Challenges and Opportunities of Community-Engaged Teaching. Vanderbilt University Centre for Teaching. Accessed 1/6/2021. https://cft.vanderbilt.edu/guides-sub-pages/challenges-and-opportunities-of-community-engaged-teaching/.
Brits, H. J. (2011). The integration of quality management functions within a university: A systems approach. South African Journal of Higher Education, 25(7), 1288 – 1297.
Creswell, J. W., & Plano-Clark, V. L. (2017). Designing and conducting mixed methods research (3rd ed.). Thousand Oaks, CA: Sage.
Culum, B. (2014) Academics and service to the Community. In William K. Cummings, Ulrich Teichler (Eds). The Relevance of Academic Work in Comparative Perspective. Springer- Education - 252 pages (p 139 – 162).
Darling-Hammond, L., Flook, L., Cook-Harvey, C., Brigid Barron & Osher, D. (2020). Implications for educational practice of the science of learning and development, Applied Developmental Science, Taylor and Francis Online. 24:2, 97-140, DOI: 10.1080/10888691.2018.1537791.
Dawson, C. (2009) Introduction to Research Methods: A Practical Guide for Anyone Undertaking a Research Project (4th ed.). Oxford: How to Books.
Ehlenz, M. M., (2015). Anchoring Communities: The Impact of University Interventions on Neighborhood Revitalization. Publicly Accessible Penn Dissertations. 1050. http://repository.upenn.edu/edissertations/1050.
Hebert, A. and Hauf, P. (2015). Student learning through service-learning: Effects on academic development, civic responsibility, interpersonal skills and practical skills. Active Learning in Higher Education. SageJournals. 16(1) page(s): 37-49.
Hodgson, G. M. (2006). What Are Institutions? Journal of Economic Issues, 40(1), 1–25. http://www.jstor.org/stable/4228221.
Just. S, Richard F. Vaz, R. F. (2016). Understanding Impacts: Community Engagement Programs and Their Implications for Communities, Campuses and Societies. In Leal Filho, Walter, Nesbit, Susan (Eds.) New Developments in Engineering Education for Sustainable Development. DOI: 10.1007/978-3-319-32933-8_12.
Johnstone, S. and Soares, L. (2014). Principles for Developing Competency-Based Education Programs. Change: The Magazine of Higher Learning. Taylor and Francis Online, 46(2), 12 – 19.
Le Clus, M (2011). Informal learning in the workplace: A review of the literature. Australian Journal of Adult Learning, 51(2), p 355-373.
López-Pastor, V. M. and Sicilia, A. (2015). Formative and Shared Assessment in Higher Education. Lessons Learned and Challenges for the Future. Assessment & Evaluation in Higher Education 42(1). DOI: 10.1080/02602938.2015.1083535.
Musa, (2020) Instructional Supervision Towards Teacher's Quality of YIK Religious Secondary Schools in Kelantan, Malaysia. International Journal of Social Learning, Vol 1, Issue 1, December 2020. https://doi.org/10.47134/ijsl.v1i1.3.
N. J. Rao (2020). Outcome-based Education: An Outline. Higher Education for the Future 7(1) 5–21, India. DOI: 10.1177/2347631119886418 journals.sagepub.com/.
National University of Science and Technology (NUST). (2020). Yearbook. Revised. Bulawayo. https://www.nust.ac.zw/index.php/academic-regulations.html.
Nduna, N.J. (2012). The relevance of workplace learning in guiding student and curriculum development. South African Journal of Higher Education (SAJHE), 26(2), 232 – 248.
OECD (2013), "Student assessment: Putting the learner at the center", in Synergies for Better Learning: An International Perspective on Evaluation and Assessment, OECD Publishing, Paris, https://doi.org/10.1787/9789264190658-7-en.
Phuthi, N. (2012). Enhancing Quality Academic Practice Through Integrated Industry-Based Learning. [Doctoral dissertation, University of Pretoria]. University of Pretoria Theses and Dissertations Archive. https://repository.up.ac.za/handle/2263/32289/browse?value=Phuthi%2C+Nduduzo&type=author.
Phuthi, N and Mpofu, I (2021). Critical Reflection in Science Teaching and Learning: Crossing Borders into Western Science. American Journal of Educational Research. 2021; 9(5):313-319. DOI: 10.12691/education-9-5-9.
Rose, P. (2020). Work-integrated learning in context: A South Korean perspective. International Journal of Work-Integrated Learning, 21(2), 131-143.
Sánchez-Barrioluengoa M and Benneworthbc,P, (2019). Is the entrepreneurial university also regionally engaged? Analyzing the influence of university's structural configuration on third mission performance Technological Forecasting and Social Change, Volume 141, April 2019, Pages 206-218. https://doi.org/10.1016/j.techfore.2018.10.017.
Scholz, D. (2020). Assessing workplace-based learning. International Journal of Work-Integrated Learning, 21(1), 25-35.
Shaw, D. (2017). Managing people and learning in organizational change projects. Journal of Organizational Change Management. 30(6). Accessed 1/6/2021. https://www.emerald.com/insight/content/doi/10.1108/JOCM-11-2016-0253/full/html.
Zarvianti, E, and Sahida, D (2020). Designing Comics by using Problem Based Learning (PBL) to Improve Student's Creative Thinking Skills. International Journal of Social Learning, Vol 1, Issue 1, December 2020. https://doi.org/10.47134/ijsl.v1i1.8.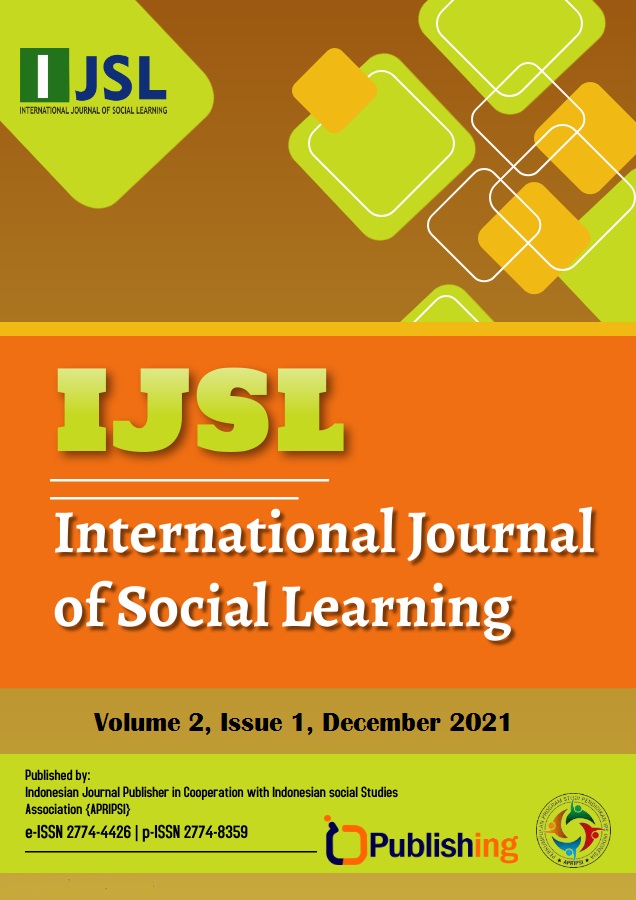 How to Cite
Phuthi, N., & Mpofu, L. (2021). The Quality of Supervision and Assessment in Industry-Based Learning. International Journal of Social Learning (IJSL), 2(1), 128-143. https://doi.org/10.47134/ijsl.v2i1.98