Emergency Remote Early Childhood Teaching: A Temporary Setting or Contemporary Necessity?
Keywords:
Emergency Remote Teaching, Early Childhood Education, Post-Pandemic Education, COVID-19
Abstract
The COVID-19 pandemic and the protection of social distance between educators and learners have impacted all levels of education – significantly, early childhood. It has hindered activities carried out in a direct meeting and has forced education in the 2020-2021 school year to continue through emergency remote teaching. The study determined the fundamental structure of the views of early childhood educators on emergency remote teaching to reveal how they are thinking forward regarding their teaching skillset for either the continuity or change of education in the next school year. A phenomenological design of qualitative research was employed, and a local sample of 10 educators voluntarily informed the study. Through the interviews, five theme clusters emerged that reflected their 88 significant statements. The results evidenced to the extent that early childhood educators view emergency remote teaching as beyond being a temporary solution to learning when a pandemic threatens physical classes, but its potential to become a contemporary necessity is premature and highly dependent on how families will respond and how schools will proceed as a result of their response. Thus, further exploration of professional development topics is needed to support early childhood educators to teach in any situation moving forward.
Downloads
Download data is not yet available.
References
Adelayanti, N. (2020). News Report: Universitas Gadjah Madha. Retrieved from Universitas Gadjah Madha : https://www.ugm.ac.id/en/news/19554-revealing-the-challenges-of-online-learning-during-covid-19-pandemic
Barbour, M., LaBonte, R., Hodges, C., Moore, S. et al. (2020). Understanding Pandemic Pedagogy: Differences Between Emergency Remote, Remote, and Online Teaching. State of the Nation: K-12 e-Learning in Canada.
Bozkurt, A., Jung, I., Xiao, J., Vladimirschi, et al. (2020). A global outlook to the interruption of education due to COVID-19 pandemic: Navigating in a time of uncertainty and crisis. Asian Journal of Distance Education 15(1), 1-126. DOI:10.5281/zenodo.3878572
Colaizzi, P. (1978). Psychological Research as the Phenomenologist Views It. In: Valle, R.S. and King, M., Eds., Existential-Phenomenological Alternatives for Psychology, Oxford University Press, New York, 48-71.
Creswell, J. (2016). Qualitative Inquiry & Research Design: Choosing Among the Five Approaches. Sage Publications.
Department of Education. (2020). DepEd Order 013, S.2020. Philippines. Retrieved from https://www.deped.gov.ph/wp-content/uploads/2020/06/DO_s2020_013.pdf
Elkind, D. (2013). Can We Play? In R. House, Too Much Too Soon?: Early learning and the Erosion of Childhood. Hawthorn Press.
Ferri, F., Grifoni, P., & Guzzo, T. (2020). Online Learning and Emergency Remote Teaching: Opportunities and Challenges in Emergency Situations. Societies 10, no. 4, 86.
Guetterman, T. (2015). Descriptions of Sampling Practices Within Five Approaches to Qualitative Research in Education and the Health Sciences.
Hodges, C., Moore, S., Lockee, B., Trust, T., & Bond, A. (2020). The Difference Between Emergency Remote Teaching and Online Learning. Educause Review 27, 1-12.
House, R. (2012). The Inappropriateness of ICT in Early Childhood: Arguments from Philosophy, Pedagogy, and Developmental Research. In S. Suggate, & E. Reese, Contemporary Debates in Childhood Education and Development (pp. 105–120). Routledge.
Ireland, S. (2016). Education Disrupted: Disaster Impacts on Education in the Asia Pacific Region in 2015. Save the Children International.
Jassim, L. L. (2020). Using E-Learning Technologies in Teaching and Learning Process. International Journal of Social Learning (IJSL), 1(1), 15-23. DOI: https://doi.org/10.47134/ijsl.v1i1.1
Keumala, M., Yoestara, M., & Putri, Z. (2019). The Impacts of Gadget and Internet on the Implementation of Character Education on Early Childhood. International Conference on Early Childhood Education, 313-325.
McPake, J., Stephen, C., Plowman, L., Sime, D., & Downey, S. (2005). Already at a Disadvantage? ICT in the Home and Children's Preparation for Primary School. Becta.
Müller, L.-M., & Goldenberg, G. (2020). Education in Times of Crisis: The Potential Implications of School Closures for Teachers and Students. A review of research evidence on school closures and international approaches to education during the COVID-19 pandemic.
Plowman, L., & Stephen, C. (2003). A 'Benign Addition'? Research on ICT and Pre‐school Children. Journal of computer-assisted learning 19, no. 2, 149-164.
Saruji, M., Hassan, N., & Drus, S. (2017). Impact of ICT and Electronic Gadget Among Young Children in Education: A Conceptual Model. Proceedings of the 6th International Conference on Computing and Information, 25-27.
Trust, T., & Whalen, J. (2020). Should Teachers Be Trained in Emergency Remote Teaching? Lessons Learned from the COVID-19 Pandemic. Journal of Technology and Teacher Education 28.2, 189-199.
Yildirim, A., & Simsek, H. (2008). Qualitative Research Methods in Social Sciences. 8th print. Ankara, Turkey: Seckin Publishing House.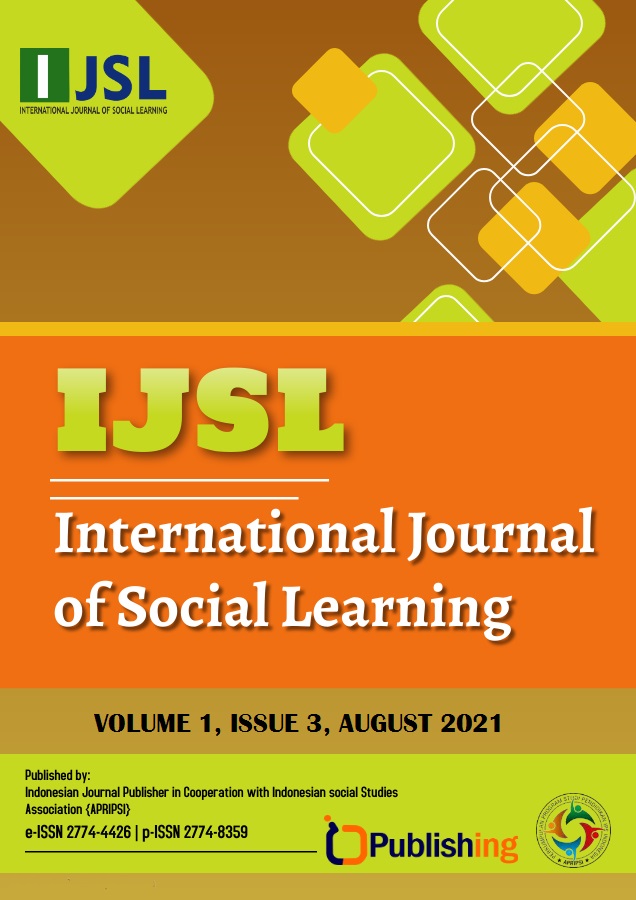 How to Cite
Mahinay, J., & Merin, J. (2021). Emergency Remote Early Childhood Teaching: A Temporary Setting or Contemporary Necessity?. International Journal of Social Learning (IJSL), 1(3), 304-320. https://doi.org/10.47134/ijsl.v1i3.86