The Utilization of Facebook During Covid-19 Pandemic by First-Year College Students
Helen B. Boholano

Cebu Normal University, Philippines

Roberto Cajes

Trinidad Municipal College, Philippines
Keywords:
Facebook, First-Year College Students, Instructional Tool
Abstract
Facebook is one of the popular social networking sites used by students. First-year college students who have primarily engaged themselves in Facebook are being influenced and affected by such media platforms. Students who use Facebook frequently are likely influenced by other people. On the other hand, their studies can likely be distracted. Instead of spending their time reviewing their school lessons, students get tempted to allot much of their time using Facebook. This study determined the reasons and feedback of first-year college students using Facebook. This research using a mixed method of quantitative and qualitative in interpreting and analyzing the data. The respondents were the first-year college students of Cebu Normal University, Cebu City. Findings revealed that using Facebook may cause adverse effects on students' academic performance due to frequent use of such media. However, Howeverebook can also bring positive effects to the students' academic performance. As a communication tool, Facebook provides information and acquiring knowledge from the different Facebook users. Facebook is beneficial in their studies. Through Facebook, college students can now share and exchange information through brainstorming and collaborating in the Group Chat. Therefore, the utilization of Facebook in learning as a tool in instruction during the Covid-19 pandemic is beneficial to learners and lecturers.
Downloads
Download data is not yet available.
References
Bedassa, F. (2014). Impact of Facebook usage on students academic performance. GRIN Verlag.
Boholano, H. B., Jamon, B. E. V., Jamon, M. G. C., & Boholano, G. S. (2021). The Lived Experiences of Basic Education Teachers during Virtual Conferences. Solid State Technology, 64(2), 2632-2644. https://doi.10.13140/RG.2.2.26690.50882
Cain, J., & Policastri, A. (2011). Using Facebook as an informal learning environment. American journal of pharmaceutical education, 75(10). https://doi.org/10.5688/ajpe7510207
Cuesta, M., Eklund, M., Rydin, I., & Witt, A. K. (2016). Using Facebook as a co-learning community in higher education. Learning, Media and Technology, 41(1), 55-72. https://doi.org/10.1080/17439884.2015.1064952
Ellison, N. B., Steinfield, C., & Lampe, C. (2011). Connection strategies: Social capital implications of Facebook-enabled communication practices. New media & society, 13(6), 873-892.
Ellison, N. B., Steinfield, C., & Lampe, C. (2007). The benefits of Facebook "friends:" Social capital and college students' use of online social network sites. Journal of computer-mediated communication, 12(4), 1143-1168.
Kabilan, M. K., Ahmad, N., & Abidin, M. J. Z. (2010). Facebook: An online environment for learning of English in institutions of higher education?. The Internet and higher education, 13(4), 179-187. https://doi.org/10.1016/j.iheduc.2010.07.003
Nadkarni, A., & Hofmann, S. G. (2012). Why do people use Facebook?. Personality and individual differences, 52(3), 243-249. https://doi.org/10.1016/j.paid.2011.11.007
Nadeak, B. (2020). The effectiveness of distance learning using social media during the pandemic period of covid-19: A case in Universitas Kristen Indonesia. International Journal of Advanced Science and Technology, 29(7), 1764-1772.
Nadeem, S., Dhool, M. A., Butt, R. M., Rasheed, A., & Bashir, A. (2020). A Systematic Review on the Impact of Facebook Usage on Academic Performance. Reviews of Management Sciences, 2(1), 17-39.
Pérez, T., Araiza, M. D. J., & Doerfer, C. (2013). Using Facebook for learning: A case study on the perception of students in higher education. Procedia-Social and Behavioral Sciences, 106, 3259-3267. https://doi.org/10.1016/j.sbspro.2013.12.375
Taylor, S. A., Mulligan, J. R., & Ishida, C. (2012). Facebook, social networking, and business education. American Journal of Business Education (AJBE), 5(4), 437-448. https://doi.org/10.19030/ajbe.v5i4.7121
Wise, L. Z., Skues, J., & Williams, B. (2011). Facebook in higher education promotes social but not academic engagement. Changing demands, changing directions. Proceedings ascilite Hobart, 1332-1342.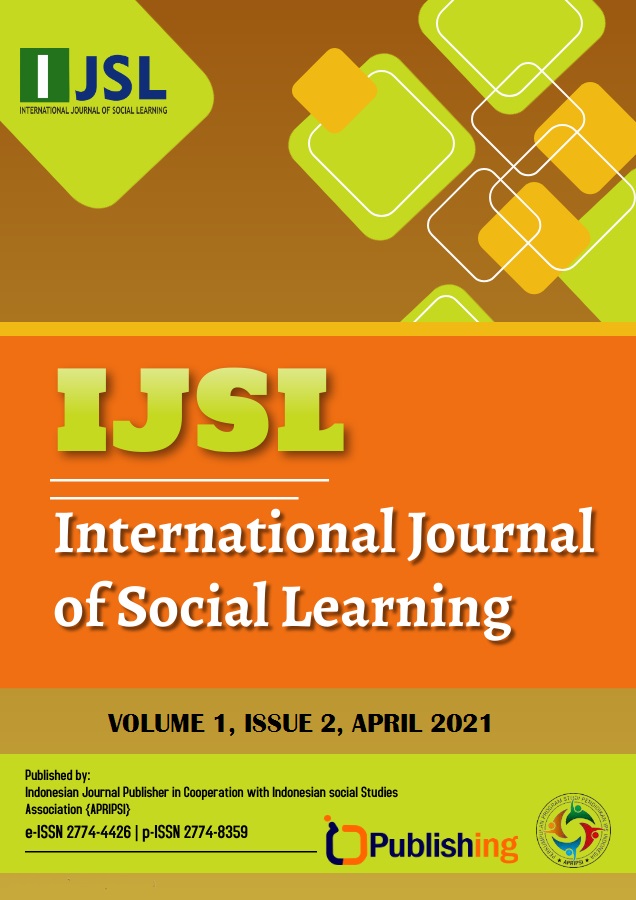 How to Cite
Boholano, H. B., & Cajes, R. (2021). The Utilization of Facebook During Covid-19 Pandemic by First-Year College Students. International Journal of Social Learning (IJSL), 1(2), 163-173. https://doi.org/10.47134/ijsl.v1i2.52