Thriving Amidst the Pandemic: Examining the Lived Experiences of Work from Home Filipino Teachers
Agnes G. del Rosario

Philippine Normal University, Philippines

Cynthia P. Galang

Philippine Normal University, Philippines
Keywords:
Work from Home (WFH), Online Learning, Lived Experiences
Abstract
The purpose of this study is to investigate the mental, physical, emotional, social, and spiritual experiences of work-from-home (WFH) Filipino teachers. It also provides descriptions of the positive and negative aspects of working from home and how they adapt to the new culture. This study describes exceptional or new thoughts and feelings of WFH Filipino teachers. Using a qualitative phenomenological methodology, the researchers explored teachers' lived experiences in teaching in a work-from-home environment. This study included ten (10) teachers from both public and private schools in Metro Manila.   Analyses of the data revealed key themes from the teachers' perspectives of the work-from-home environment. Respondents accepted the new culture of working from home, opened their minds to all possibilities, and were eager to learn new things to adapt to changes. Online teaching-learning is not possible without the respondents' participation in training and seminars. Technical issues, communication concerns, student learning conditions, family concerns, household issues, and health conditions are some of the challenges in teaching and working at home based on the research.  Teacher participants expressed that WFH experiences were challenging and exhausting but they found it fulfilling as well. They cultivated the teachers' traits of being flexible, innovative, dynamic, and sociable despite the many challenges that they have encountered in the intricate setup to enhance success and effectiveness in the teaching and learning process.
Downloads
Download data is not yet available.
References
Aczel, B., et al. (2021). Researchers Working from Home: Benefits and Challenges. PLoS ONE, 16(3 March). https://doi.org/10.1371/journal.pone.0249127.
Abdul Bujang, S. D., et al., (2020). Digital Learning Demand For Future Education 4.0-case Studies At Malaysia Education Institutions. Informatics, 7(2). https://doi.org/10.3390/informatics7020013.
Ariawan, S. et al. (2020). Virtual Discussion for Improving Motivation: A Christian Education Strategy against Covid-19 Pandemic Effect. International Research Journal on Advanced Science Hub, 2(7), 1–5. https://doi.org/10.47392/irjash.2020.56.
Bloor, M., & Wood, F. (2006). Phenomenological methods. Keywords in qualitative methods, 129-131.
Bolisani, E., Scarso, E., Ipsen, C., Kirchner, K., & Hansen, J. P. (2020). Working from Home during COVID-19 Pandemic: Lessons Learned and Issues. Management and Marketing, 15(s1), 458–476. https://doi.org/10.2478/mmcks-2020-0027.
Castillo, Estella M. (2018). The Single Working Mother's Experience of Listening to New Age Music for Stress Relief" (2018). Walden Dissertations and Doctoral Studies. 5001. https://scholarworks.waldenu.edu/dissertations/5001.
Chaturvedi, K. et al. (2021). Covid-19 and Its Impact on Education, Social Life And Mental Health of Students: A Survey. Children and Youth Services Review, 121. https://doi.org/10.1016/j.childyouth.2020.105866.
Coman, Claudiu et al. (December 2020). Online Teaching and Learning in Higher Education during the Coronavirus Pandemic: Students' Perspective. Sustainability, 12, 10367; doi:10.3390/su12241036.
Corpuz, J. C. G. (2021). Adapting to the Culture of "New Normal": An Emerging Response to COVID-19. Journal of Public Health (Oxford, England), 43(2), e344–e345. https://doi.org/10.1093/pubmed/fdab057.
Crosbie, T., & Moore, J. (2004). Work–life balance and working from home. Social Policy and Society, 3(3), 223-233.
Crosbie, Tracey, et.al. (2016). Work-life Balance and Working from Home.Social Policy & Society 3:3, 223–233. https://doi.org/10.1017/S1474746404001733.
Creswell, John W. (2007). Qualitative Inquiry & Research Design: Choosing Among Five Approaches (2nd ed.), Thousand Oaks, CA: Sage Publications, Inc.
Day, Christopher, et al. (2005) The Personal and Professional Selves of Teachers: Stable and Unstable Identities. British Educational Research Journal Vol. 32, No. 4, August 2006, pp. 601–616.
Dehler, Gordon E. and Welsh, M. Ann (November 1994). Spirituality and Organizational Transformation: Implications for the New Management Paradigm. Journal of Managerial Psychology, 9(6):17-26. https://doi.org/10.1108/02683949410070179.
Dust, Scott B. & Greenhaus, Jeffrey H. (2013) Spirituality and the Work–Home Interface: A Demands–resources Perspective, Journal of Management, Spirituality & Religion, 10:3,282-305, DOI: 10.1080/14766086.2013.801029.
Ekpanyaskul, C., & Padungtod, C. (2021). Occupational Health Problems and Lifestyle Changes Among Novice Working-From-Home Workers Amid the COVID-19. Pandemic. Safety and Health at Work. https://doi.org/10.1016/j.shaw.2021.01.010.
Farooq, M., & Soormro, A. (2018). Teachers and Technology: Trends in English Language Teaching in Saudi Arabia. International Journal of English Linguistics, 8(5), 10. https://doi.org/10.5539/ijel.v8n5p10.
Flynn, Matthew. (2018, April 4). 3 Keys to Successful Learning in the Remote Workplace. Training Industry. https://trainingindustry.com/articles/remote-learning/3-keys-to successful-learning-in-the-remote-workplace/.
Gijzen, M., et al (2020). The Bittersweet Effects of Covid-19 on Mental Health: Results of an Online Survey Among a Sample of the Dutch Population Five Weeks After Relaxation of Lockdown Restrictions. International Journal of Environmental Research and Public Health, 17(23), 1–11. https://doi.org/10.3390/ijerph17239073.
Hagger, Martin, et al. (2020). Managing Stress During the COVID‐19 Pandemic and Beyond Reappraisal and Mindset Approaches. Stress and Health. 36 (3) https://doi.org/10.1002/smi.2969.
Johnson, Davion. (2017). The Role of Teachers in Motivating Students to Learn. BU Journal of Graduate Studies in Education, Volume 9, Issue 1, 2017.
Kaushik and Guleria. (2020), The Impact of Pandemic COVID -19 in Workplace. European Journal of Business and Management. Vol.12, No.15 https://doi.org/10.7176/ejbm/12-15-02.
Kıcır, B. (2019). EVDEN ÇALIŞMA: ÖZGÜRLÜK MÜ ESARET Mİ? Dokuz Eylül Üniversitesi Sosyal Bilimler Enstitüsü Dergisi, 173–196. https://doi.org/10.16953/deusosbil.302154.
Kraft, Matthew A. and Simon, Nicole S. (June, 2020). Teachers' Experiences Working from Home During the COVID-19 Pandemic. Upbeat. https://f.hubspotusercontent20.net/hubfs/2914128/Upbeat%20Memo_Teaching_From_Home_Survey_June_24_2020.pdf.
Looper, C. et al. (2021, April 6). Google Meet VS Zoom: Which is Better? Business Insider. https://www.businessinsider.com/google-meet-vs-zoom.
Mahmudah, I., et al. (2020). Frequently Asked Questions Of Novel Coronavirus: A Review Of The Evidence. New Armenian Medical Journal, 14(4), 43–55.
Malipot, Merlina H. (2020, July 28). Deped Oks Work From Home Scheme For Teachers. Manila Bulletin. https://mb.com.ph/2020/07/28/deped-oks-work-from-home-scheme-for-teachers/.
Matli, W. (2020), The Changing Work Landscape as a Result of the Covid-19 Pandemic: Insights from Remote Workers Life Situations in South Africa, International Journal of Sociology and Social Policy, Vol. 40 No. 9/10, pp. 1237-1256. https://doi.org/10.1108/IJSSP-08-2020-0386.
Matthews, A. (2021). Sociotechnical Imaginaries in the Present and Future University: A Corpus-Assisted Discourse Analysis of UK Higher Education Texts. Learning, Media and Technology, 46(2), 204–217. https://doi.org/10.1080/17439884.2021.1864398.
Mercado, Darla (2020, September 23). Grappling With Childcare While Working From Home? How Employers Plan To Help. CNBC. https://www.cnbc.com/2020/09/23/dealing with-childcare-while-working- At-home-how-employers-will-help.html.
Moustakas, Clark. (1994). Phenomenological Research Methods. Thousand Oaks, CA: Sage Publications, Inc.
Morse, Janice M. (1994). Critical Issues on Qualitative Research Methods Thousand Oaks, CA: Sage Publications, Inc.
Morse, Janice M. et al. (2002). Verification Strategies for Establishing Reliability and Validity in Qualitative Research. International Journal of Qualitative Method. https://doi.org/10.1177%2F160940690200100202.
Nagel, David. (2019, May 8). How Teachers Use Technology in the Classroom. The Journal https://thejournal.com/articles/2019/05/08/how-teachers-use-technology-in-the classroom.aspx.
Palumbo, R. (2020). Let me go to the office! An Investigation Into The Side Effects Of Working from Home On Work-Life Balance. International Journal of Public Sector Management, 33(6–7), 771–790. https://doi.org/10.1108/IJPSM-06-2020-0150.
Pamintuan, A. (2020, Sept, 18). Private Schools' Apocalypse. The Philippine Star. https://www.philstar.com/opinion/2020/09/18/2043241/private-schools-apocalypse.
Panchal, N. et al. (2021, Feb. 10). The Implications of COVID-19 for Mental Health and Substance Use. KFF. https://www.kff.org/coronavirus-covid-19/issue-brief/the-implications-of-covid-19-for-mental-health-and-substance-use/.
Salkind, Neil J. (2010). Triangulation. Encyclopedia of Research Design. https://dx.doi.org/10.4135/9781412961288.n469.
Sharma, N., & Vaish, H. (2020). Impact Of COVID–19 On Mental Health and Physical Load on Women Professionals: An Online Cross-Sectional Survey. Health Care for Women International, 41(11–12), 1255–1272. https://doi.org/10.1080/07399332.2020.1825441.
Sherman, John. (2018, July 9). Work-Life Boundaries: How To Separate Your Work And Personal Life. Go1.https://www.go1.com/blog/post-work-life-boundaries-separate-work-personal-life.
Steidtmann, McBride, & Mishkind, (2020). Experiences of Mental Health Clinicians and Staff in Rapidly Converting to Full-Time Telemental Health and Work from Home During the COVID-19 Pandemic. Telemedicine and E-Health. https://doi.org/10.1089/tmj.2020.0305.
Vasquez, Wanda L. (2019, Nov. 5) Bridging the Gap: Effective Knowledge Transfer for Emerging Leader Development. Training Industry.
Yüksel, Pelin and Yıldırım, Soner. (2015). Theoretical Frameworks, Methods, and Procedures for Conducting Phenomenological Studies in Educational Settings.Turkish Online Journal of Qualitative Inquiry. DOI: 10.17569/tojqi.59813.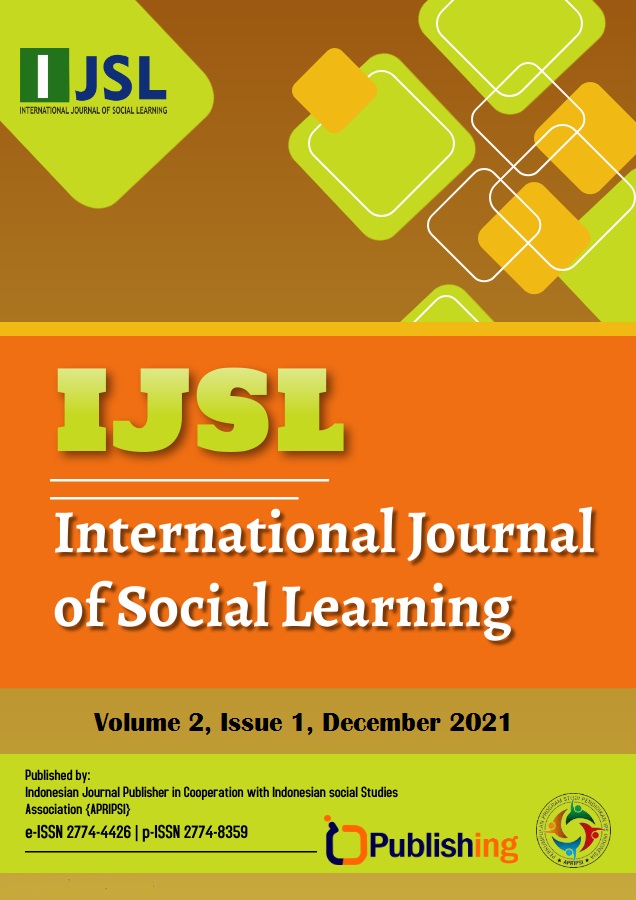 How to Cite
Rosario, A. G. del, & Galang, C. P. (2021). Thriving Amidst the Pandemic: Examining the Lived Experiences of Work from Home Filipino Teachers. International Journal of Social Learning (IJSL), 2(1), 39-54. https://doi.org/10.47134/ijsl.v2i1.46