Teachers' Critical Reflections on the New Normal Philippine Education Issues: Inputs on Curriculum and Instruction Development
Keywords:
Critical Reflections, Curriculum and Instruction, New Normal, Teaching and Learning Process
Abstract
Due to the COVID-19 pandemic, the Philippine educational landscape is greatly affected. This education issue concerns the country's curriculum and instruction (CIN), covering students' learning, delivery modalities, competencies, teachers' characteristics, and community involvement. Nonetheless, the CIN must be developed, considering the students, teachers, community, and the pressing challenges in the teaching-learning process, promoting quality education while considering the pandemic, by looking into teachers' perspectives. This qualitative research used content analysis to derive insights from the critical reflections of sixteen (16) teacher participants. It aims to present the participants' reflections on the New Normal education issues, leading to curriculum and instruction development inputs. Furthermore, the emerging themes are (a) essentiality and feasibility in choosing learning competencies; (b) good quality, flexibility, sustainability, and safety in choosing learning modalities; (c) learning materials' alignment, sufficiency, and proper distribution; (d) devotion, adaptability, and helpfulness of teachers; (e) reaching out students and task individualization; and (f) leadership and involvement needed to achieve success in education. Moreover, the findings suggest that the New Normal classroom requires a curriculum and instruction, teacher, leadership, and involvement adaptive and flexible of the changing and multifaceted educational landscape brought by the persisting disease.
Downloads
Download data is not yet available.
References
Almario, AR, & Austria, Reagan. (2020). Helping K-12 transition to post-COVID 19 times. https://authdocs.deped.gov.ph/wp- content/uploads/2020/06/BE-LCP-Annex-E-Ani-Almario- Helping-K-12-Schools-Transition-to-Post-COVID.pdf
Ancho, I. V. (2020). Old mindset, values and ethics, and stakeholder partnership and accountability: Inputs to school leadership in the new normal. Jayapagus Press Books. Retrieved from http://jayapanguspress.penerbit.org/index.php/JPB/article/download/463/458
Australian Institute for Teaching and School Leadership Limited. (2020). The role of school leadership in challenging times. Retrieved from https://www.aitsl.edu.au/research/spotlight/the-role-of-school-leadership-in-challenging-times
Barnett, W. S., Grafwallner, R. & Weisenfeld, G. (2021). Corona pandemic in the United States shapes new normal for young children and their families, European Early Childhood Education Research Journal, 29:1, 109-124, DOI: 10.1080/1350293X.2021.1872670.
Charnbhumidol, P., Kraiwanich, S., & Kraiwanit, T. (2020). Learning method for the new normal in Thailand. International e-Conference on Impact of New Normal and COVID-19 on Education, Economic, Business Strategies, and Management of the Supply Channel. Retrieved from https://www.researchgate.net/profile/Tanpat-Kraiwanit 2/publication/349117295_New_Normal_and_Covid-19_Impact_on_Education_Economic_Business_Strategies_and_Management_of_the_Supply
Codamon, D. Republic of the Philippines. Philippine Information Agency. (2020). Understanding the distance learning delivery modalities. Philippine Information Agency Official Website.
Creswell, J. (2014). Research design: qualitative, quantitative, and mixed methods. California, USA: SAGE Publications, Inc.
Galang, A. (2020). Non-academic constructs of the 21st century Thai and Filipino teachers in the movie "Teacher's Diary". OKARA Journal, 2 (2), 190 – 208.
Garcia, E. & Weiss, E. (2020). COVID-19 and student performance, equity, and US education policy. Economic Policy Institute. Retrieved from https://www.epi.org/publication/the-consequences-of-the-covid-19-pandemic-for-education-performance-and-equity-in-the-united-states-what-can-we-learn-from-pre-pandemic-research-to-inform-relief-recovery-and-rebuilding/
Grbich, C. (2007). Qualitative data analysis: An introduction. California, USA: SAGE Publications, Inc.
Inan, H. Z. (2021). Challenges of Distance/Online and Face-to-Face Education in the New Normal: Experiences of Reggio Emilia-Inspired Early Childhood Educators in Turkey. Pedagogical Research, 6(1), em0086. DOI: https://doi.org/10.29333/pr/9304
Malipot, M. (2020). DepEd to roll out revised K to 12 curriculum amid COVID-19 crisis; reduces required learning competencies by 60%. Manila Bulletin. Retrieved from https://mb.com.ph/2020/05/19/deped-to-roll-out-revised-k-to-12-curriculum-amid-covid-19-crisis-reduces-required-learning-competencies-by-60/.
Nicholls, AC. (2020). Education in time of a pandemic: What students and teachers are in for this coming school year. CNN Philippines. Retrieved from https://www.cnn.ph/news/2020/6/11/COVID-19-2020-school-classes.html
Orstein, A. & Hunkins, F. (2018). Curriculum foundations, principles, and issues. London, UK: Pearson Education Limited.
Pham, H.-H., & Ho, T.-T.-H. (2020). Toward a "new normal" with e-learning in Vietnamese higher education during the post COVID-19 pandemic. Higher Education Research & Development, 1–5. DOI: 10.1080/07294360.2020.1823945
Republic of the Philippines. Department of Education. (2020). DepEd order no. 012. Department of Education Official Website. Retrieved from https://www.deped.gov.ph/wp-content/uploads/2020/06/DO_s2020_012-1.pdf
Republic of the Philippines. Department of Education. (2020). Guidelines on the use of the most essential learning competencies. Department of Education Commons. Retrieved from https://commons.deped.gov.ph/MELCS-Guidelines.pdf
Republic of the Philippines. Department of Health. (2021). Resolution no. 94. Department of Health Official Website. Retrieved from https://doh.gov.ph/sites/default/files/health-update/IATFResolution94.pdf
Sahlberg, P. (n.d.). Curriculum change as learning: In search of better implementation. Academia. Retrieved from https://www.sac.smm.lt/bmt/wp-content/uploads/2009/09/1-Passi-Sahlberg-Curriculum-change-as-learning.pdf.
Siswati, S., Astiena, A.K., & Savitri, Y. (2020). Evaluation of online-based student learning: Models during New Normal pandemic covid-19 in Indonesia. Journal of Nonformal Education, 6 (2): 148-155. Retrieved from DOI: https://doi.org/10.15294/jne.v6i2.25599
Villena, D., Reyes, E. & Dizon, E. (2015). Curriculum development. Manila, Philippines: Adriana Printing Co. Inc.
World Health Organization. (2020). Coronavirus disease (COVID-19) in the Philippines. Retrieved from https://www.who.int/philippines/emergencies/covid-19- in-the-Philippines.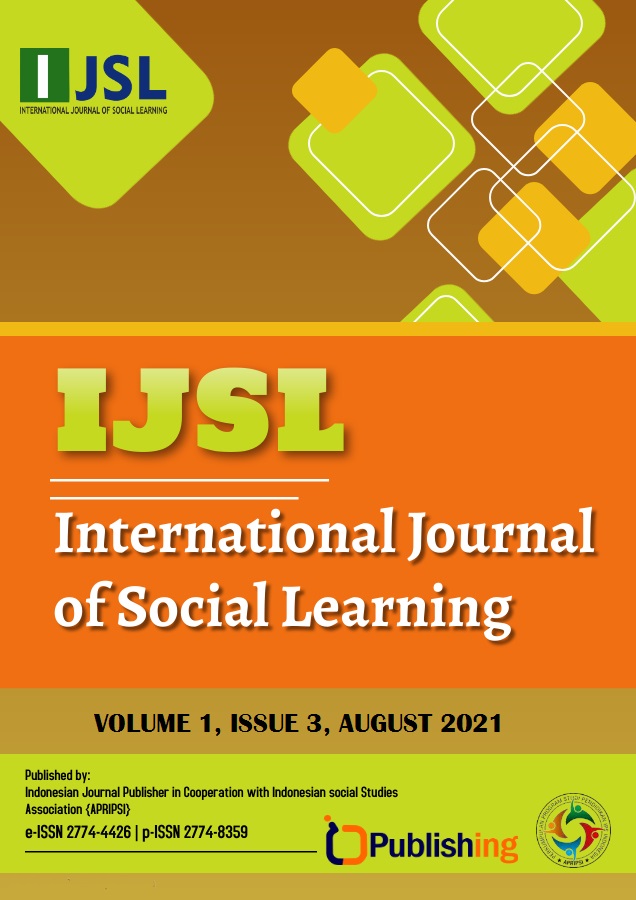 Downloads
How to Cite
Galang, A. D. . (2021). Teachers' Critical Reflections on the New Normal Philippine Education Issues: Inputs on Curriculum and Instruction Development. International Journal of Social Learning (IJSL), 1(3), 236–249. https://doi.org/10.47134/ijsl.v1i3.43