Combatting the Danger of a Single Story: Empirical Comparison of Resource Availability among Ibadan Rural and Urban Pre-School Centers, Nigeria
Keywords:
Equal-Access, Pre-Primary Education, Preschool Resources, Rural-Urban Learning
Abstract
Learning in the early years of life is not just an intra-personal effort of the child alone; rather, it involves the interplay of several social factors, which can affect a child's development. However, literature that considered and presented these factors as obtainable within preschools mostly revealed their facts and figures in a single story of either urban or rural preschools, cheering an uneven intervention from developmental agencies afterward. This study sought to provide an empirical comparison of the state of preschool resources in Ibadan rural and urban communities. A descriptive survey research design was adopted. The population includes public preschool centers in Ibadan. A proportionate stratified sampling technique was used to select 20% of the preschools from two selected local governments of Ibadan which represent the urban and rural communities. A total sample of 33 preschools was used. Data was collected using Pre-primary School Resources Availability Checklist (PREPSRAC, r = 0.89). Findings were that classroom resources are more available in urban preschools compared to rural pre-primary schools of Ibadan contrary to generalized remarks. Equity rather than equality of resources distribution is therefore recommended as a way of discontinuing the danger of a single story in pre-primary education for promoting equal learning.
Downloads
Download data is not yet available.
References
Adedoja, G., Abidoye, J., & Afolabi, A. K. (2013). Effect of two puzzle-based instructional strategies on primary school pupils' learning outcomes in social studies in Ondo State. Nigeria. African Educational Research Journal, 1(2), 58-63.
Ahmad, T. S. (2015). Social studies curriculum for the total person. Nigerian Journal of Curriculum Studies, 16(2), 215-225.
Akinrotimi, A.A. & Olowe, P.K. (2016). Challenges in implementation of early childhood education in Nigeria: the way forward. Journal of Education and Practice, 7(7), 33-38.
Anderson, R. H. & Shane, H.G. (2012). Implications of early childhood education for life-long learning. National Society for the Study of Education, Year Book II.
Ary, D., Jacobs, L. C., & Sorensen, C. (2010). Introduction to research in education. 8th Ed. Wadsworth CENGAGE Learning.
Ayoku, O. (2016). Relationship among resources availability and utilization and school effectiveness in Kwara State secondary schools. [Unpublished doctoral dissertation], University of Ilorin.
Black, A. & Muddiman, D. (1997). Understanding community librarianship: the public library in post-modern Britain. Avebury.
Chepkonga M. C. (2017). Influence of learning facilities on provision of quality education in early childhood development centers in Kenya. International Journal of Education and Research, 5(6), 15-26.
Emetarom, U. C. (2014). Provision and management of facilities in primary schools in Nigeria Implication for policy formulation. In E.O. Fagbamiye, J.B. Babalola, M. Fabunmi, A.O. Ayeni (Eds). Management of primary and secondary education in Nigeria, NAEAP Publication, 321-337.
Federal Republic of Nigeria, (2007). National Minimum Standard for Early Child Care Centers in Nigeria. Lagos: NERDC press.
Jill, H. & Joy, R. (2016). Gender difference in the scientific achievement of adolescent: effect ofage and parental separation. Social Forces, 17(2), 64-84.
Jimoh D.O. & Oduolowu E. (2019). Effect of storytelling instructional strategy on primary school pupils' learning outcome in Social Studies in Ibadan, Nigeria. In E.O. Oduolowu, I.A Salami, & M.D. Amosun (Eds), Fundamentals of preschool and primary school teacher preparation in Nigeria, 100-113. Department of Early Childhood and Educational Foundations. University of Ibadan. www.searchworks.stanford.edu/view/13332478
Ndukwu, P. N. (2002). School and teacher factors material resources utilization in pre-primary schools in Lagos State. [Unpublished doctoral dissertation]. University of Ibadan.
Nkasiobi, O. S. (2011). A spatial analysis of infrastructures and social services in rural Nigeria: Implications for public policy. Geotropico, 5(1), 25-38.
Oduolowu, E. (2011). Contemporary issues in early childhood education. Franco-Ola.
Oginni, A. M., Awobodu, V. Y., Alaka, M. O & Saibu, S. O. (2013). School factors as correlates of students' achievement in Chemistry. International Journal for Cross-Disciplinary Subjects in Education (IJCDSE), 3(3), 1516-1523. https://doi.org/10.20533/ijcdse.20426364.2013.0212
Olalowo, I. E. (2020). Accounts and Thoughts of Overage Children: A Qualitative Study on the Physical and Emotional Environment of Preschools in Ibadan, Nigeria. American Journal of Qualitative Research, 4(3), 1-13. https://doi.org/10.29333/ajqr/8390
Osho L. O., Aliyu, N., Okolie, O. & Onifade, O. (2014). Implementation of early childhood education: a case study in Nigeria. Universal Journal of Educational Research, 2(2), 119-125. https://doi.org/10.13189/ujer.2014.020203
Pacione, M. (1997). Britain's cities: geographies of division in urban Britain. Routledge.
Salami, I. A. (2015). University to community pilot preschool program: the effects on learning environment, teachers' attitude and children holistic development. African Educational Research Journal, 3(1), 55-62.
Salami, I. A. (2016). Towards the holistic development of children in Oyo state: the scope of the behavioral objectives in preschool teachers' lesson plans. Journal of Emerging Trends in Educational Research and Policy Studies (JETERAPS), 7(1), 1-7.
Salami, I. A. (2019). Nigeria transition from developing to developed nation: How possible without effective, functional and equal access to quality Early childhood education? Journal of Early Childhood Association of Nigeria (JECAN), 8(1), 1-26.
UNESCO, (2019). Cities of inclusion: UNESCO Learning City Award 2019. UNESCO Institute of Lifelong Learning, Hamburg, Germany.
UNICEF, (2017). UNICEF Annual Report 2017, Nigeria. www.unicef.org
Walker, A. (1997). Introduction: the strategy of inequality. In A. Walker and C. Walker (Eds). Britain Divided: the growth of social exclusion in the 1980s and 1990s. London: Child Poverty Action Group.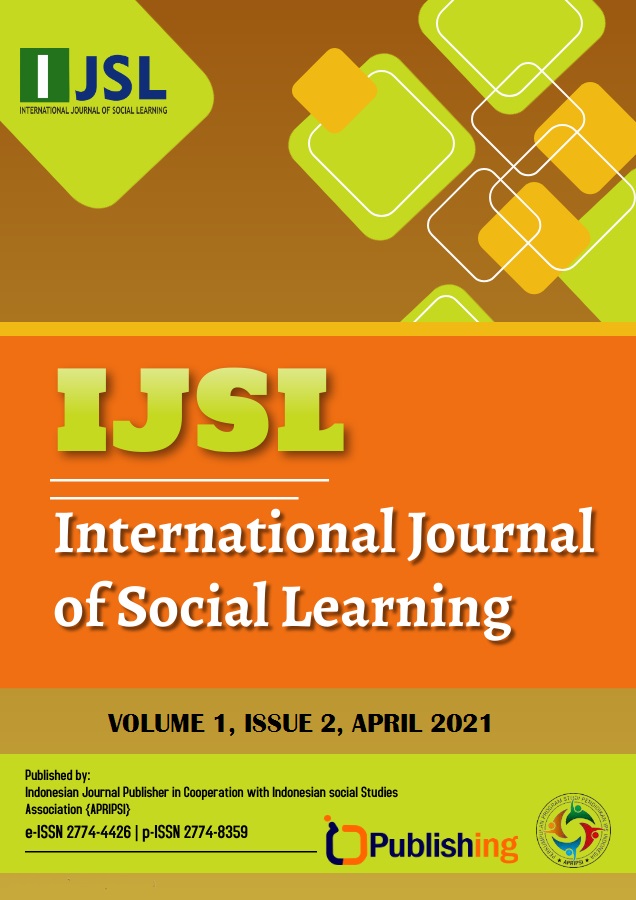 How to Cite
Olalowo, I. E., & Salami, I. A. (2021). Combatting the Danger of a Single Story: Empirical Comparison of Resource Availability among Ibadan Rural and Urban Pre-School Centers, Nigeria. International Journal of Social Learning (IJSL), 1(2), 205-217. https://doi.org/10.47134/ijsl.v1i2.35