An Exploration of Teachers' Pedagogical Knowledge on Teaching Practical Skills in Fashion and Fabrics to High School Learners
Keywords:
Coursework, Fashion and Fabrics, Pedagogical Knowledge, Practical Skills, Theoretical Skills
Abstract
Fashion and Fabrics is a discipline that involves practical and theoretical skills, and to achieve better results, teachers need to possess pedagogical knowledge for teaching practicals as well. This study aimed to establish the teachers' pedagogical knowledge for teaching Fashion and Fabrics practical skills in Eswatini High Schools. This qualitative study utilized a descriptive research design to get in-depth information. A sample of 16 Fashion and fabric teachers was purposively selected, with eight being interviewed, while the others were observed during their practical lessons. Data were analyzed using thematic analysis. The study results show that Fashion and Fabrics teachers need to gain pedagogical knowledge in teaching Fashion and Fabrics practical skills. They must prepare for valuable lessons, as evidenced by a need for proper student-sitting arrangements. Teachers were found not to use visual aids and supervise students' work for corrective feedback when necessary. The study concludes that Fashion and fabric teachers need to be stronger in content knowledge and pedagogical competencies, essential for effective learning; hence, students' achievements could have been higher. The study recommends that the training institutions stress peer teaching of Fashion and Fabrics practicals for more practice.
Downloads
Download data is not yet available.
References
Ahmad, S., Wasim, S., Irfan, S., Gogoi, S., Srivastava, A. & Farheen, Z. (2019). Qualitative v/s Quantitative Research . J. Evid. Based Med. Healthc., 6(43). ISSN- 2349-2562, eISSN- 2349-2570/.
Ahmed, T. (2021). Globalization, AcademicMigrantsand Education: Case Study of Palestine Scholars in India. IJSL: International Journal of Social Learning, 2 (1), 55-68.
Allery, L. (2009). How to teach practical skills. Education for Primary Care, 20(1), 58-60.
Arubayi, D. O. & Obunadike, J. C. (2011). Problems of teaching and learning clothing and textiles in senior secondary schools in Anambra State, Nigeria. Studies on Home and Community Science, 5(2), 113-119.
Bhardwaj, P. (2019). Types of sampling research. Journal of the Practice of Cardiovascular Sciences, 5(3), 157-163.
Blandford, A. E. (2013). Semi-structured qualitative studies. Interaction Design Foundation. Retrieved 10, 22, 2018 from http://discovery.ucl.ac.uk/1436174/2/semistructured_qualitative_studies.pdf.
Braun, V. & Clarke, V. (2006). Using thematic analysis in psychology. Qualitative Research in Psychology, 3(2), 77-101. ISSN 1478-0887 Available from: http://eprints.uwe.ac.uk/11735.
Busetto, L., Wick, W. & Gumbinger, C. (2020). How to use and assess qualitative research methods. Neurological Research and Practice, 2(14). 10.1186s42466-020-00059.
Campbell S., Greenwood M., Prior S., Shearer T., Walkem K., Young S., Bywaters D., & Walker K. (2020). Purposive sampling: complex or simple? Research case examples. J Res Nurs, 25(8).
Chimbindi, F. (2017). Strategies for Teaching Textile, Clothing and Designing in Zimbabwe: A Case Study of Two Universities of Technology. Chitrolekha International Magazine on Art & Design, 1(2), 75-85.
Coe, R., Aloisi, C., Higgins, S. & Major, L. E. (2014). What makes great teaching? Review of the underpinning research. Project Report. Sutton Trust, London. Retrieved 12, 09, 2018 from: //www.suttontrust.com/wp-content/uploads/2014/10/What-Makes-Great-teaching-Report.pdf.
Daluba, N. E. (2013). Effect of Demonstration Method of Teaching on Students' Achievement in Agricultural Science. World Journal of Education, 3(6), 1-7.
DeJonckheere, M. & Vaughn, L. (2019). Semi-structured interviewing in primary care research: a balance of relationship and rigor. Family Medical Community Health, 7(2).
Dewey, J. (1938). Education and Experience. New York: Simon and Schuster.
Essa, E. K. (2022). A Cognitive Model for Developing University Students' Communication Skills. International Journal of Social Learning, 3 (1), 65-79.
Examination Council of Swaziland. (2012). SGCSE Fashion and Fabrics Examination Report. Examinations Council, Ezulwini, Swaziland.
Examinations Council of Swaziland. (2017). SGCSE Fashion and Fabrics Syllabus 2017- 2018. Examinations Council, Ezulwini, Swaziland.
George, T. (2022). Semi-Structured Interview | Definition, Guide & Examples. Scribbr. Retrieved from https://www.scribbr.com/methodology/semi-structured-interview/.
Guerriero, S. (2014). Teachers' pedagogical knowledge and the teaching profession. Teaching and Teacher Education, 2(1), 1-7.
Hamdan, M. K. K. H., et al. (2022). Improving Conceptual Knowledge and Soft Skills among Vocational Students through Inquiry-Based Learning in a Flipped Classroom. IJSL: International Journal of Social Learning, 2 (2), 235-249.
Hammarberg K., Kirkman M. & de Lacey S. (2016). Qualitative research methods: when to use them and how to judge them, Human Reproduction, 31(3), 498–501.
Elaine, C. S. (2013). Impacts of the demonstration method in the teaching and learning of hearing impaired children. IOSR Journal of Humanities and Social Science, 12(1), 27-28.
Janine, M. (2018). Strengths and Weaknesses of Descriptive Research. Retrieved 09,11,2018 from https://classroom.synonym.com/strengths-weaknesses-descriptive-research-2596.html.
Johari, M., et al. (2023). Secondary Teacher Candidates' Perceptions and Experiences Before, During, and After Conducting A Science Show. IJSL: International Journal of Social Learning, 3 (2), 234-246.
Kaur, G. (2011). Study and analysis of lecture model of teaching. International Journal of Educational Planning & Administration, 1(1), 9-13.
Kawulich, B. (2005). Participant Observation as a Data Collection Method. Forum: Qualitative Social Research, 6(2).
Korstjens, I. & Moser, A. (2018). Series: Practical guidance to qualitative research. Part 4: trustworthiness and publishing. European Journal of General Practice, 24(1), 120-124.
Lahti, H. (2012). Learning sewing techniques through an inquiry. Procedia-Social and Behavioral Sciences, 45(1), 178-188.
Lanka, E., Lanka, S., Rostron, A. & Singh, P. (2021). Why do we need Qualitative Research in Management Studies? Journal of Contemporary Administration, 25(2).
Manthra Prathoshni, S., Vishnu Priya, V. & Gayathri, R. (2018). Effect of teaching aids on student's academic performance in professional courses. Drug Invention Today, 10(12), 2358-2361.
McCombes, S. (2022). Descriptive Research/ Definition, Types, Methods & Examples. Scribbr. Retrieved from https://www.scribbr.com/methodology/descriptive- research/.
Mohajan, H. (2018). Qualitative research methodology in social sciences and related subjects. Journal of Economic Development, Environment, and People, 7(1), 23-48.
Mupfumira I.M. & Rubaya, L. (2014). Performance of Students at O'Level Fashion and Fabrics: A Comparative Study of an Urban and Rural School in Masvingo Zimbabwe. International Journal of Innovative Research and Development, 3(3), 521-528.
Muyunda, G., et al. (2023). Teachers' Professional Development in Zambia: Perceptions and Practices. IJSL: International Journal of Social Learning, 3 (2), 222-233.
Muzenda, V. & Duku, N. (2014). Skills Lecturers Possess for Quality Delivery of the Clothing and Textiles Curriculum. Mediterranean Journal of Social Sciences, 5(16), 446.
Rosen, M. A., Salas, E., Pavlas, D., Jensen, R., Fu, D. & Lampton, D. (2010). Based training: A review of instructional features. Human factors, 52(5), 596-609.
Rosenshine, B. (2012). Principles of Instruction: Research-Based Strategies That All Teachers Should Know. American educator, 36(1), 12-21.
Rubio, C.M. (2009). Effective teachers-professional and personal skills. Essays: Journal of the Faculty of Education of Albacete, 2 (24), 35-46.
Sargeant, J. (2012). Qualitative Research Part II: Participants, Analysis, and Quality Assurance. Journal of Graduate Medical Education, (1), 1-3.
Sarpong, G.D., Howard, E. K. & Amankwah, A. (2012). Teaching of Fashion and Textiles Studies in Ghanaian Tertiary Institutions. International Journal of Innovative Research and Development, 1(9), 472-485.
Shabiralyani, G., Hasan, K. S., Hamad, N. & Iqbal, N. (2015). Impact of Visual Aids in Enhancing the Learning Process Case Research: District Dera Ghazi Khan. Journal of Education and Practice, 6(19), 226-233.
Smith, M. K., Wenderoth, M. P. & Tyler, M. (2013). The Teaching Demonstration: What Faculty Expect And How To Prepare For This Aspect Of The Job Interview. CBE-Life-Sciences Education, 12(1), 12-18.
Sonmark, K. (2017). Understanding Teachers' Pedagogical Knowledge: Report On An International Pilot Study, OECD Education Working Papers. Paris: OECD Publishing.
Sutton, J. & Austin, Z. (2015). Qualitative research: data collection, analysis, and management. The Canadian journal of hospital pharmacy, 68(3):226.
Taherdoost, H. (2016). Sampling Methods in Research Methodology; How to Choose a Sampling Technique for Research. International Journal of Academic Research in Management (IJARM), 5(2), 18-27, ISSN: 2296-1747. Switzerland: Helvetic Editions LTD.
Vasileiou, K., Barnett, J., Thorpe, S. & Young, T. (2018). Characterizing and justifying sample size sufficiency in interview-based studies: systematic analysis of qualitative health research over a 15-year period. BMC Med Res Methodol, 18(148).
Yussop, M. A. H., et al. (2021). Self-Reliant Learning Strategy in Vocational and Technical Education: Insights from Group Collaboration. IJSL: International Journal of Social Learning, 1 (3), 283-303.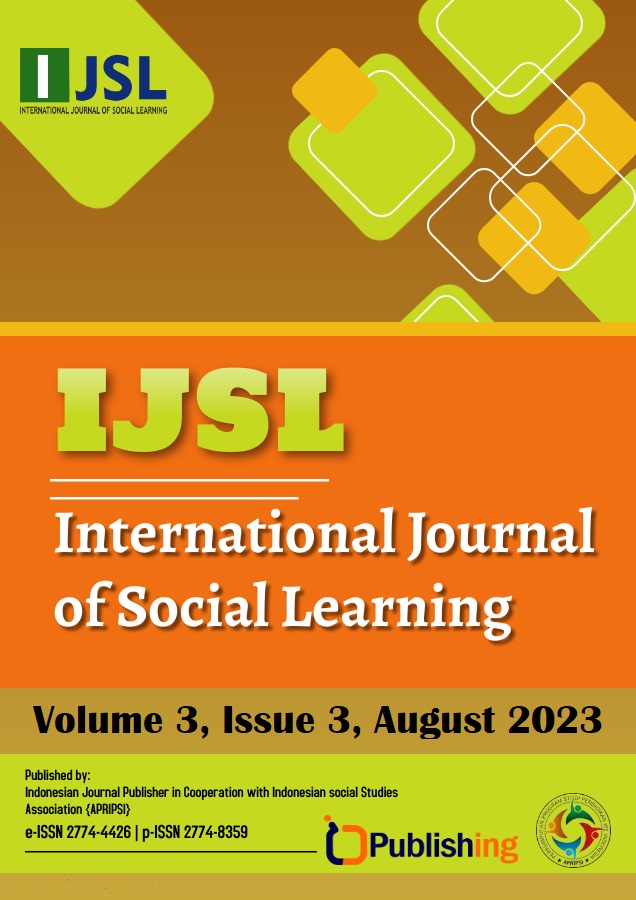 Downloads
How to Cite
Mpofu, M., Magagula, H. ., Manwa, L. ., & Manwa, L. . (2023). An Exploration of Teachers' Pedagogical Knowledge on Teaching Practical Skills in Fashion and Fabrics to High School Learners. International Journal of Social Learning (IJSL), 3(3), 378–394. https://doi.org/10.47134/ijsl.v3i3.219