An Eye-Opening Experience with Visual Impairment Students' environment in Brunei Darussalam
Keywords:
Universal Design, Visual Impairment (VI), Mobility, Disability, Anxiety
Abstract
This paper aims to explore the experiences of students with visual impairment (VI) within their built school environment. A qualitative case study of four students with VI from three secondary government schools were interviewed following site observations of their schools. The study found that the students with VI do face anxiety towards their built school environment alongside the barriers they faced which can be thematically categorized into physical barriers, auditory barriers and lighting barriers. The study also revealed that many aspects of the school buildings and environment presented challenges and are intimidating to maneuver for VI students. The study has implications in expanding the field of study into Universal Design within Brunei Darussalam where future research can approach UD and it's aspects in depth. Finally, the country had started dialogue regarding accessibility and its significance in the country's National Vision Plan 2035 and the study hopes to bring insight into the types of barriers the built environment can have on students with VI and signal future development projects forward.
Downloads
Download data is not yet available.
References
Aborsi, O., & Koay, T. (2008). Attaining development goals of children with disabilities: Implications for inclusive Education. International Journal of Special Education, 23(3), 1-10.
Alur, M. (2001). Some cultural and moral implications of inclusive education in India-a personal view. Journal of Moral Education, 30(3), 287-292. https://doi.org/10.1080/03057240120077291
Amin, A. S., Sarnon, N., Md. Akhir, N., Zakaria, S. M., & Badri, R. N. (2021). Main challenges of students with visual impairment at higher education institutions. International Journal of Academic Research in Progressive Education and Development, 10(1), 737-747. http://dx.doi.org/10.6007/IJARPED/v10-i1/9682
Athanasios, K., Konstantinos, P., Doxa, P., & Eleni, K. (2009). Students with visual impairments in higher education institutes. Conference Proceeding 7th European of ICEVI.
Belay, M. A., & Yihun, S. G. (2020). The challenges and opportunities of visually impaired students in inclusive education: The case of Bedlu. Journal of Pedagogical Research, 4(2), 112-124. https://doi.org/10.33902/JPR.2020060437
Congdon, N. G., Friedman, D.S., & Lietman, T. (2003). Important Causes of Visual Impairment in the World Today. Jama, 290(15), 2057-60.
Den Otter, A., Hoogwerf, M., & Van Der Woude, L. (2011). The role of tread fixations in the visual control of stair walking. Gait & Posture, 34(2), 169-173. https://doi.org/10.1016/j.gaitpost.2011.04.004
Esfandfard, E., Wahab, M. H., & Che Amat, R. (2018). Universal design in urban public spaces for people with disability. Case study of Tehran, Iran. PLANNING MALAYSIA JOURNAL , 16, 173-182. https://doi.org/10.21837/pm.v16i5.421
Fernando, B. N. P., & Hettiarachchi, A. A. (2016). Blind sense of place : A sensory ethnographic study on parameters of optimal design. Conference: 9th International Conference of Faculty of Architecture Research Unit (FARU), University of Moratuwa, 97-110.
Florian, L., & Black-Hawkins, K. (2011). Exploring inclusive pedagogy. British Educational Research Journal, 37(5), 813-828 https://doi.org/10.1080/01411926.2010.501096
Haug, P. (2017). Understanding inclusive education: ideals and reality. Scandinavian Journal of Disability Research, 19(3), 206-217.
Hira, D. S. (1980). An ergonomic appraisal of educational desks. Ergonomics, 23(3), 213221. https://doi.org/10.1080/00140138008924735
Hussain, M. R., & Tukiman, I. (2015). Landscape environment for student with disabilities (SwDs) in the international Islamic University Malaysia (IIUM) main campus. Advanced Science Letters, 21(6), 2058-2062. https://doi.org/10.1166/asl.2015.6205
Kim, K., & Steinfeld, E. (2016). An evaluation of stairway designs featured in architectural record between 2000 and 2012. International Journal of Architectural Research: ArchNet-IJAR, 10(1), 96. https://doi.org/10.26687/archnet-ijar.v10i1.844
Kirk, S. A., Gallagher, J. J., Anastasiow, N. J., & Coleman, M. R. (2006). Educating exceptional children. (11th ed). Boston: Houghton Mifflin.
Koay, T. L. (2012). Inclusion in Brunei Darussalam: The role of teacher education. International Journal of Inclusive Education, 18(10), 1029-1037. https://doi.org/10.1080/13603116.2012.693396
Kumari, A., Maniratnam & Mishra, A. (2017). Universal Design for education in regular schools: A preliminary Study. International Journal of Development Research, 07(08), 14762-14766
Leat, S. J., Legge, G. E., & Bullimore, M. A. (1999). What is low vision. Optom Vis Sci, 76, 198- 211.
Lourens, H., & Swartz, L. (2016). Experiences of visually impaired students in higher education: Bodily perspectives on inclusive education. Disability & Society, 1-12. https://doi.org/10.1080/09687599.2016.1158092
Hamdan, M., & Hoon, C.-Y. (2019). BRUNEI DARUSSALAM: Making Strides with a Renewed Focus on the Future. Southeast Asian Affairs, 85–102.
Mastropieri, M.A., & Scruggs, T.E. (2010). The Inclusive Classroom: Strategies for effective differentiated Instructions. New Jersey: Upper Saddle River.
Ministry of Education. (2007). Proposed SPN21 curriculum: Draft. Bandar Seri Begawan: Curriculum Development Division, Ministry of Education.
Morrow, S.L. (2010). The Psychosocial Costs of Commuting: Understanding Relationships Between Time, Control, Stress, and Well-Being. University of Connecticut.
National Safety Council. (2011). National safety council injury facts. Retrieved from http://www.nsc.org/Documents/Injury_Facts/ Injury_Facts_2011_w.pdf
Ozdemir, S., & Sungur, A., (2018). Inclusive Design and practices in Education: A conceptual literature review. 12th International Technology, Education and Development Conference. https://doi.org/10.21125/inted.2018.1010
Parvin, S. (2015). Social inclusion of visually impaired students studying in a comprehensive secondary mainstream school in the South of England. International Journal of Scientific and Research Publications, 5(2), 1-5.
Paul, J. (2011, June). Injury Epidemiology [Paper presentation]. Paper presented at the International Conference on Stairway Usability and Safety, Toronto, Canada.
Riazi, A., Riazi, F., Yoosfi, R., & Bahmeei, F. (2016). Outdoor difficulties experienced by a group of visually impaired Iranian people. Journal of Current Ophthalmology, 28(2), 85-90. https://doi.org/10.1016/j.joco.2016.04.002
Rose, D. H., & Meyer, A. (2002). Teaching Every Student in the Digital Age: Universal Design for Learning. Association for Supervision and Curriculum Development, 1703 N. Beauregard St., Alexandria, VA 22311-1714.
Sahin, M., & Yorek, N. (2009). Teaching Science to Visually Impaired Students: A Small-Scale Qualitative Study. Online Submission, 6(4), 19-26.
Simui, F. (2018). Lived experiences of students with visual impairments at Sim University in Zambia: A hermeneutic phenomenological approach [Unpublished doctoral dissertation]. Lusaka: University of Zambia.
Simons, H. (2009). Evolution and concept of case study research. Case study research in practice, 12-28.
Story, M. F. (1998). Maximizing usability: The principles of universal design. Assistive Technology, 10(1), 4-12. https://doi.org/10.1080/10400435.1998.10131955
Templer, J. A. (1992). The staircase: studies of hazards, falls, and safer design.. MIT Press: Cambridge, Mass.
Tuan, Y.F. (1977). Space and place: The perspective of experience. University of Minnesota Press.
UNESCO. (1994). The Salamanca statement and framework for action on special needs education : Adopted by the world conference on special needs education; Access and quality. Salamanca, Spain, 7-10 June 1994.
United Nations. (1975). Declaration on the rights of disabled persons. Official records of the General Assembly.
United Nations. (2006). Convention of the Rights of Persons with Disabilities. Retrieved from https://www.un.org/development/desa/disabilities/convention-on-the-rights-of-persons-with-disabilities.html
Vermeersch, P. W., & Heylighen, A. (2012). Blindness and multi-sensoriality in architecture. The case of Carlos Mourão Pereira. The place of research, the research of place, 393-400.
World Health Organization (2011). World Report on Disability. Geneva: World Health Organization.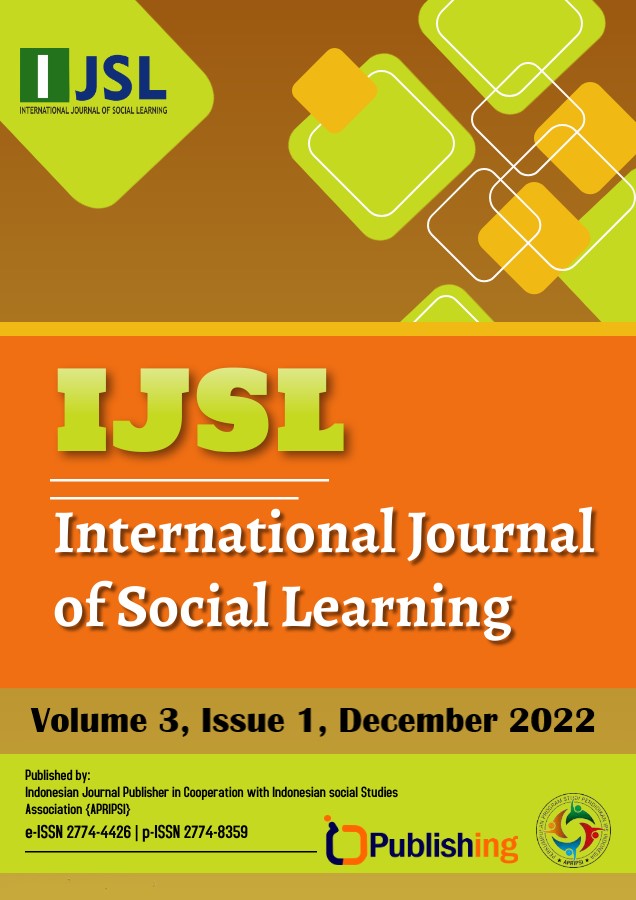 Downloads
How to Cite
Sheikh Haji Khalid, S. M. I. B. ., Abdul Latif, S. N., & Haji Zailani, F. F. . (2022). An Eye-Opening Experience with Visual Impairment Students' environment in Brunei Darussalam. International Journal of Social Learning (IJSL), 3(1), 115–130. https://doi.org/10.47134/ijsl.v3i1.184