Aggressive Behaviours among Pupils: Prevalence and Management in Ibadan North Local Government Area
Keywords:
Aggressive Behaviours, Management, Primary School Pupils
Abstract
This study investigated the prevalence and management of aggressive behavior in the North Ibadan Regional Government. This study used a phenomenological qualitative approach with a multi-stage sampling procedure using three elementary school teachers from each selected school, ten teachers as the sample. Teacher Management Strategy for Student Aggressive Behavior Interview Schedule (TMS_PABIS) as the qualitative data obtained were transcribed and summarized to provide a basis for interpretation and thematic analysis. The findings revealed kicking, hitting, snapping, throwing objects, screaming, and biting. It can be concluded that the aggressive behavior manifestations of the lower elementary school students are high because this requires proper management before they move to the upper elementary grades and other educational levels. It involves awareness of various strategies that can be used by teachers and other education stakeholders rather than focusing on a particular system, especially social skills.
Downloads
Download data is not yet available.
References
Abdulmalik, J., Ani, C., & Ajuwon, A.J. (2016). Effects of problem-solving interventions on aggressive behaviors among primary school pupils in Ibadan, Nigeria. Child Adolesc Psychiatry Ment Health, 10 (31). from https://doi.org/10.1186/s13034-016-0116-5.
Anderson, C. A., & DeLisi, M. (2011). Implications of global climate change for violence in developed and developing countries. In J. Forgas, A. Kruglanski, & K. Williams (Eds.), Social conflict and aggression. New York: Psychology Press.
Archer, J., & Coyne, S. M. (2005). An integrated review of indirect, relational, and social aggression. Personality and Social Psychology Review, 9(3), 212–230.
Aquino, John Michael D. (2022). Management Practices and Holistic Development of Dance Troupe in Selected Secondary Schools. IJSL: International Journal of Social Learning, 2 (2), 186-200.
Azeez R and Babalola, S. (2020). Effect of Cognitive Behavioral Group Therapy on Adolescents' Aggressive Behavior. International Journal of Behavioral Sciences, 14(2): 51-55. Retrieved from doi: 10.30491/ijbs.2020.203329.1143.
Babalola, A. E. (2021). Determinants and Management of Aggressive Behaviours among Lower Primary School Pupils in Ibadan Metropolis. Nigeria: University of Ibadan, Unpublished Master's Dissertation.
Baron, R. A. & Branscombe, N. R. (2016). Social Psychology (13th Ed.). Pearson.
Brennan L M, Shaw D S, Dishion T J, Wilson M N. (2015). The predictive utility of early childhood disruptive behaviors for school-age social functioning. J Abnorm Child Psychol from. doi:10.1007/s10802-014-9967-5. 8.
Buss, A. H., and Perry, M. P. 1992. The Aggression Questionnaire. Journal of Personality and Social Psychology, 63, 452– 459.
Buss, D. M., and Duntley, J. D. (Eds.). (2006). The evolution of aggression. Madison, CT: Psychosocial Press.
Churchward, B. (2009). Techniques for better classroom discipline. Honor level. Retrieved from http://www.honorlevel.com/x47.xml.
Crick, N.R., & Grotpeter, J.K. (1996). Relational aggression and friendship. Child Development, 67(1), 2328-2338.
Dailo, Rossana R. & Alfred E. Dailo. (2022). Emerging Strategies in Classroom Management: Impact on the 21st Century Skills Competency of Grade 10 Students. IJSL: International Journal of Social Learning, 3 (1), 80-101.
Dawn M.Z. & Marlene D.M. (2011). Aggressive Behavior in Children and Adolescents. Pediatr Rev, 32(8), 325-32. doi: 10.1542/pir.32-8-325. PMID: 21807873.
Derman, M. T. (2011). Early Childhood Education Teachers' Strategies Use in Order to Prevent Aggressive Behaviors in Classes: The Case of Turkey. Universal Journal of Educational Research, 5(7), 1127-1136. Retrieved from http://www.hrpub.org DOI: 10.13189/ujer.2017.050706.
Hudley C, Britsch B, Wakefield W. D, Smith T, Democrat M, & Cho S. (1998). An attribution retraining program to reduce aggression in elementary school students. Psychol Sch, 35(3), 271–82.
Karaca R and F. E. İkiz. (2014). A Contemporary Approach to Guidance and Psychological Counseling. Ankara: Nobel Publishing.
Korkut F. 2004. School-based preventive guidance and psychological counseling. Ankara: Anı Publishing.
Laurence D. Owens and Colin E. MacMullin. (1995). Gender Differences in Aggression in Children and Adolescents in South Australian Schools. International Journal of Adolescence and Youth, 6(1), 21-35. doi: 10.1080/02673843.1995.9747776.
Magnavita, Nicola, & Heponiemi, Tarja. (2012). Violence toward healthcare workers in a Public Health Care Facility in Italy: a repeated cross-sectional study. BMC Health Services Research, 12(1), 108.
ÖngörenÖzdemir and K. Tepeli. 2016. Examining the strategies of preschool teachers to cope with aggressive behaviors. Journal of Ahi Evran University Kırşehir Education Faculty (KEFAD), 17(2), 51-70.
Onukwufor, J.N. (2013). Physical and verbal aggression among adolescent secondary school students in River's state of Nigeria. British Journal of Education, 1(2), 62-73.
Pingault J-B, Cote S. M, Lacourse E, Galera C, & Vitaro F (2013). Childhood hyperactivity, physical aggression, and criminality: a 19-year prospective population-based study from doi:10.1371/journalpone.0062594.7.
Responding to misbehavior (n.d.) Responding to misbehaviors in the classroom. Retrieved June 30, 2020 from https://courses.lumenlearning.com/educationalpsychology/chapter/responding-to-student-misbehavior/.
Saad, Norhana bt Mohamad & Wan Ainul Mardhiah bt Wan Amri Faizal. (2022). Factors Influencing Early Retirement Intention of Teacher Leaders in Secondary Schools. IJSL: International Journal of Social Learning, 2 (2), 161-172.
Sadiku. (2020). Effects of Cognitive Restructuring and Life Skills Training on Aggression among Adolescents in three selected Public Secondary Schools in Oyo State. Olabisi Onabanjo University, Ago-Iwoye. Unpublished PhD Thesis
Salami I.A. & Babalola E.A. (2021). Bio-psychosocial Determinants of Aggressive Behaviours among Primary Three Pupils in Ibadan Metropolis. Journal of Educational Research on Children, Parents & Teachers, 2(3), 381-397. Retrieved from https://ercptjournal.org/.
Shava, George. N. et al. (2021). Instructional Leadership: Its Role in Sustaining School Improvement South African Schools. IJSL: International Journal of Social Learning, 1 (2), 117-134.
Simbre, Abigail P., et al. (2021). How Protected are Teachers and School Personnel?: Critical Analysis of The Teacher Protection Act (Senate Bill 956). International Journal of Social Learning, 1 (3), 333-355.
Türnüklü, A & M. İlleez. (2006). Examination of teachers' conflict resolution strategies and tactics from the perspective of social constructivism. Eurasian Journal of Educational Research, 6(22), 221–232.
Yavuzer, R. Gündoğdu, & A. Dikici. 2009. Teachers' perceptions about school violence in one Turkish city. Journal of School Violence, 8(1), 29-41.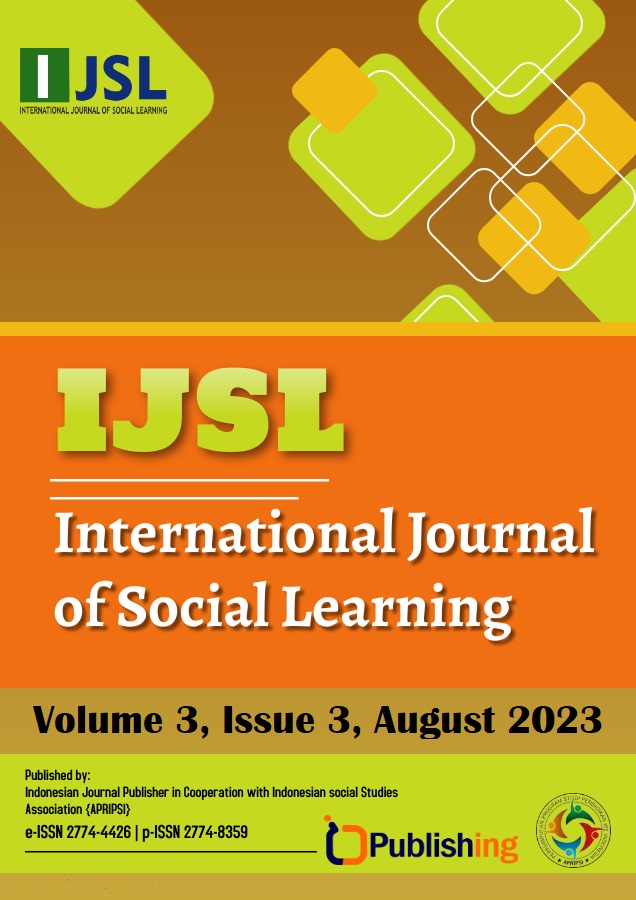 Downloads
How to Cite
Babalola, A. E. (2023). Aggressive Behaviours among Pupils: Prevalence and Management in Ibadan North Local Government Area. International Journal of Social Learning (IJSL), 3(3), 281–292. https://doi.org/10.47134/ijsl.v3i3.179