A Feasibility Study on Disasters and Disaster Risk Reduction Factors Awareness of LSPU Students
Keywords:
Natural Disaster, Man-Made Disaster, Global Viral Disease, Risk Reduction
Abstract
This study determined the students' degree of awareness at Laguna State Polytechnic University (LSPU) Sta. Cruz, Laguna in terms of disaster risk reduction and its significance, which was the basis of the LSPU DRRM Center construct. This employed a descriptive- correlational study and used a purposive sampling technique. The results revealed that the respondents had experienced various types of disasters. They are slightly aware, at least, of risk reduction factors anchoring on political commitment, while they are no less than slightly aware of the particulars related to risk reduction measures. Moreover, the results of χ² Tests of Independence revealed that the awareness of Disaster Risk Reduction Factors depends on the individual's exposure to a single or a combination of natural disasters. On the contrary, the extent of awareness of those factors does not depend on the respondent's exposure or experience with global viral diseases and man-made disasters.
Downloads
Download data is not yet available.
References
Abayao, L. (2020). Disaster risk governance in northern Philippine communities: Issues and prospects in climate change talks. In Climate Change Governance in Asia (pp. 232-255). Routledge.
Alexander, D. E. (2013). Resilience and disaster risk reduction: an etymological journey. Natural hazards and earth system sciences, 13(11), 2707-2716.
Cabigan, M. and Ampo, R. (2021). Assessment of Disaster Risk Reduction Awareness of CAS Students: Basis for CAS Student Center. LSPU Journal for Multidisciplinary Research, 14, 107-119.
Chavez Jr, D. (2019). Environmental Disaster Vulnerability and Preparedness of Angono Rizal: Implications to School Resilience. Ascendens Asia Journal of Multidisciplinary Research Abstracts, 3(2).
Geale, S. K. (2012). The ethics of disaster management. Disaster Prevention and Management: an international journal, 21(4), 445-462.
Jha, A. K., & Stanton-Geddes, Z. (Eds.). (2013). Strong, safe, and resilient: a strategic policy guide for disaster risk management in East Asia and the Pacific. Washington DC: World Bank Publications.
Lindell, M. K. (2013). Disaster studies. Current Sociology, 61(5-6), 797-825.
López-Carresi, A., Fordham, M., Wisner, B., Kelman, I., & Gaillard, J. C. (2014). Disaster management. International Lessons in Risk Reduction, Response and Recovery. London: Earthscan.
Luchi, K., Jibiki, Y., Solidum Jr, R., & Santiago, R. (2019). Natural hazards governance in the Philippines. In Oxford Research Encyclopedia of Natural Hazard Science. https://doi.org/10.1093/acrefore/9780199389407.013.233.
Marpa, E. P., Juele, M., & Hiyas, R. (2016). Environmental awareness and practices among high school students: Basis for disaster preparedness program. In Applied Mechanics and Materials (Vol. 848, pp. 240-243). Trans Tech Publications Ltd.
Pelling, M., & Wisner, B. (2012). Disaster risk reduction: Cases from urban Africa. London: Routledge.
Savitri, F. M., & Naili, Y. T. (2020). Henry Mintzberg's Business Management Strategy Post-Pandemic Covid-19 (Social Learning Approach on Ali Murah Shop Madinah). International Journal of Social Learning, 1(1), 62-74.
Saunders, M. (2014). Research Methods for Business Students (6th edn, Greek language edition). London: Pearson Education.
Seppänen, H., & Virrantaus, K. (2015). Shared situational awareness and information quality in disaster management. Safety Science, 77, 112-122.
Smith, K. (2013). Environmental hazards: assessing risk and reducing disaster. London: Routledge.
Strengthening The Philippine Disaster Risk Reduction And Management System 2017 (RA10121).(Phil.) Retrieved from: https://www.lawphil.net/statutes/repacts/ra2010/ra_10121_2010.html.
Tizon, R. T., & Comighud, S. M. T. (2020). Implementation of the Public Schools' Disaster Risk Reduction Management Program and Level of Capabilities to Respond. UBT International Conference. 1. DOI: 10.33107/ubt-ic.2020.539.
Tomaszewski, B. (2011). Situation awareness and virtual globes: Applications for disaster management. Computers & Geosciences, 37(1), 86-92.
Twigg, J. (2015). Disaster risk reduction. London: Humanitarian Policy Group.
U.S. Agency for International Development (USAID). (2011). http://DILG-Resources-2012116-420ac59e31.pdf
Wisner, B., Gaillard, J. C., & Kelman, I. (2012). Handbook of hazards and disaster risk reduction. London: Routledge.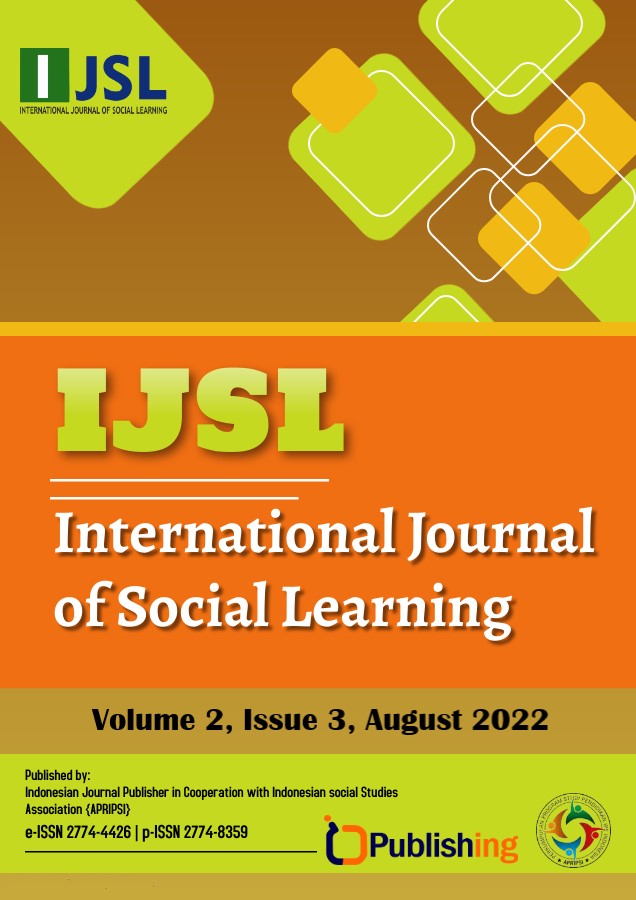 Downloads
How to Cite
Daran, D. S., Briones, M. R., Alvarez, M. L., Ampo, R. C., M. Reyes, M. G., Cabigan, V., & Aquino, J. M. (2022). A Feasibility Study on Disasters and Disaster Risk Reduction Factors Awareness of LSPU Students. International Journal of Social Learning (IJSL), 2(3), 338–349. https://doi.org/10.47134/ijsl.v2i3.171