Do We Abuse Drugs? Reports of Social Studies and Early Childhood Education Student-Teachers in two Nigerian Colleges of Education
Keywords:
Drug Abuse, Student-Teachers, Social Studies, Early Childhood Education
Abstract
The study investigated the incidence of drug abuse among student-teachers in two Nigerian colleges of education. The study's population comprised all NCE II and III Social Studies and Early Childhood Education student-teachers in two colleges located in Oyo State, Nigeria. Data was analysed using frequency counts, percentage, mean and standard deviation. Of the 400 student-teachers, 213(53.3%) were male while 187(46.8%) were female. Only 148(37%) were from Early Childhood Education while 252(63%) were from Social Studies. The student-teachers may exert negative influence on young children when they eventually take up appointment as teachers in pre-primary and primary schools. Departments of Social Studies and Early Childhood Education together with the colleges counseling centers should organize regular counseling activities and services to educate the pre-service teachers about the danger and implications that could result from their involvement in abuse of drugs.
Downloads
Download data is not yet available.
References
Abudu, V. (2008). Young people and drug abuse: A paper presented at the 8th Biennial International Conference on Alcohol, Drugs and Society in Africa, Abuja, Nigeria, 23rd - 25th July, 2008. https://citeseerx.ist.psu.edu/viewdoc/download?doi=10.1.1.510.7128&rep=rep1&type=pdf.
Ajayi, I. A., & Ekundayo, H. T. (2010). Contemporary issues in educational management, Lagos, Nigeria. BJ Publications.
Ajiboye, J. O., Amosun, P. A., Ajitoni, S. O., & Gbadamosi, T. V. (2018). Teaching Social Studies for relevance, development and sustainable democracy in Nigeria in the 21st Century: The challenge and prospect. International Journal of Arts and Social Sciences Education, 1 (1&2), 10-19. https://www.ijasseonline.com/wp-content/uploads/2019/05/Teaching-Social-Studies-for-Relevance-Development-and-Sustainable-Democracy.pdf.
Akinbote, R. O., Olowe, P. K., & John, N. (2017). Pre-primary school teachers' knowledge of characteristics and nurturing of gifted children in Ondo West Local Government Area. African Journal of Educational Research, 21(1&2), 28-38. http://africanjournalofeducationalresearch.com.ng/fulltext.php?id=48.
Akinyemi, K. (2008). Pushing the drug war in the South West. Daily Trust, 30, November, 2008. Online edition.
Alabi, A. A., Runsewe-Abiodun, T. I., & Ogunowo, K. K. (2020). Perception of substance abuse amongst adolescents and young adults in Ikenne Local Government, Ogun State, Nigeria. Community Health Equity Research & Policy, 42(1). https://doi.org/10.1177/0272684X20974547.
Alimi, B. G., Galadima, K., Garba, A., & Suleiman, H. (2020) Drugs abuse among youth in Maiduguri, Borno State, Nigeria. International Journal of Innovative Science and Research Technology, 5(4), 1486-1498. https://ijisrt.com/assets/upload/files/IJISRT20APR1002.pdf.
Amosun, P. A., Ige, O. A., & Ajala, O. A. (2010). A Study of Some Causative Factors of Substance Abuse Among Selected Secondary School Students in Ibadan, Nigeria. The African Symposium, 10(2), 4-10.
Amosun, P. A., Falade, D. A., & Falade, M. (2015). Information Communication Technology's knowledge and attitude of pre-service social studies teachers in South-West, Nigeria. African Educational Research Journal, 3(1), 25-32. http://www.netjournals.org/pdf/AERJ/2015/1/14-071.pdf.
Atwoli, L. Mungla, P. A., Ndung'u, M. N., Kinoti, K. C., & Ogot, E. M. (2011). Prevalence of substance use among college students in Eldoret, Western Kenya. BMC Psychiatry. 2011. doi: 10.1186/1471-244X-11-34.
Awoyinfa, J. O. (2012). An investigation into the incidence of alcohol usage and abuse among female student of the University of Lagos, Nigeria, West Africa. Journal of Emerging Trends in Educational Research and Policy Studies, 3(2), 174-178. https://citeseerx.ist.psu.edu/viewdoc/download?doi=10.1.1.302.337&rep=rep1&type=pdf.
Berning, J. M., Adams, K. J., & Stamford, B. A. (2004). Anabolic steroid usage in athletics: Facts, fiction, and public relations. Journal of Strength Conditioning Research, 18(4):908-17. doi: 10.1519/14813.1.
Creswell, J. W. (2012). Educational research: planning, conducting, and evaluatin quantitative and qualitative research. 4th ed. Pearson Education, Inc., Boston.
Dimas, P. H., Ajayi, O. H., & Bahijja, T. K. (2021). Substance abuse: prevalence and the determinant factors among youths in Jigwada Area, Nasarawa State, Nigeria. InternationalJournal of Management, Social Sciences, Peace and Conflict Studies, 4(3), 193 210. https://www.ijmsspcs.com/index.php/IJMSSPCS/article/view/268.
Eman, A., & Kholoud, A. (2017). Substance abuse at Jordanian universities: Perspectives of pre-service special education teachers. Journal of Substance Use, 22(5), 541-548. https://doi.org/10.1080/14659891.2016.1271031.
Fatoye, F. O., & Morakinyo, O. (2002). Substance use amongst secondary school students in rural and urban communities in South Western Nigeria. East Africa Medical Journal, 79(6):299-305. doi: 10.4314/eamj.v79i6.8849.
Federal Government of Nigeria (2013). National Policy on Education (6th edition). Lagos: NERDC Publishers.
Fisher, G. L., Jenkins, S. J., & Held, N. (1991). Pre-service teachers use of and attitudes toward alcohol and other drugs. Journal of Drug Education, 19(4):373-84. doi: 10.2190/CRPL-8PPW-EH56-DA25.
Giade, A. (2011, June 30). How Nigeria's latest drug abuse defies legislation. Daily Trust News Paper. Retrieved from http://www.dailytrust.com.ng/daily/old/index.php/feature/42852-how-nigerias-latest-drug-abuse-defies-legislation.
Hamisu, M., Ahmad T. O., &, Lim, H. L. (2014). Adolescent's and drugs abuse in Nigeria. Journal of Biology, Agriculture and Healthcare, 4(1), 5-9. https://core.ac.uk/download/pdf/234659599.pdf.
Kostelnik, M. J., Soderman, A. K., & Whiren, A. P. (2011). Developmentally appropriate curriculum: bestpractices in early childhood education (5th ed.). USA: Pearson Education. Inc.
Laerd Dissertation (2012). Total population sampling. https://dissertation.laerd.com/total- population-sampling.php.
Lakhanpal, P., & Agnihotri A. K. (2007). Drug abuse an international problem: A short review with special reference to African continent. Indian Journal of Medicine and toxicology, 1(1), 1-11. https://www.indmedica.com/journals.php?journalid=11&issueid=98&articleid=1318&action article.
Lawal, N., & A. Aliyu, A. M. (2020). Assessment of causes and effects of drugs and substances abuse among youth: A case study of Katsina Metropolis (North West Nigeria). International Neuropsychiatric Disease Journal, 14(1), 1-9. https://doi.org/10.9734/indj/2020/v14i130117.
Noureen (2017). Assessment of substance use among students studying in Islamabad, Pakistan. Anatomy Physiological Biochemistry International Journal, 2(2), 43-45. doi: 10.19080/APBIJ.2017.02.55558.
Odo, S. A. (2009). Youths and drug abuse in Nigeria: Challenge for the Nigerian churches. https://www.unn.edu.ng/publications/files/images/YOUTHS%20AND%20DRUG%20ABUSE%20IN%20NIGERIA%20CHALLENGE%20FOR%20THE%20NIGERIAN%20.pdf.
Ogunsola, S. O., Fajemisin, E. A., Aiyenuro, A. E., & Tunde, A. A. (2020). Experiences and projections for drug abuse sensitization and eradication among youths in South West, Nigeria. Journal of Alcoholism, Drug Abuse and Substance Dependence, 6: 018. https://www.heraldopenaccess.us/article_pdf/7/experiences-and-projections-for-drug-abuse-sensitization-and-eradication-among-youths-in-south-west-nigeria.pdf.
Okafor, I. P. (2020). Causes and consequences of drug abuse among youth in Kwara State, Nigeria. Canadian Journal of Family and Youth, 12(1), 147-162. https://journals.library.ualberta.ca/cjfy/index.php/cjfy/article/view/29495/21470.
Olley, B. O. (2004). Predictors of hazardous and harmful alcohol use among Nigerian Freshmen. African Journal of Medical Science, 33,327-333.
Olowe, P. K., & Ayoola, N. O. (2016). Knowledge and training needs of pre-primary school teachers in managing Nigerian early childhood education. African Journal of Educational Management, 17(2), 241-252.
Olowe, P. K., & Omotuyole C. O. (2019). Assessment of two strategies of implementing Integrated Early Childhood Development (IECD) Policy in Ondo State, Nigeria.UNILAG Journal of Curriculum and Instruction, 1(1), 155-166.
Olowe P. K., & Oduolowu, E. O. (2019). Early Childhood Education (ECE) pre-service teachers' perception of participatory learning method: Implications for the achievement of Sustainable Development Goals in Nigeria. Journal of Early Childhood Association of Nigeria, 8(2), 420-438.
Olowe, P. K. (2019). A culturally-relevant participatory learning method and Early Childhood Education pre-service teachers' attitude to and knowledge of core societal values in Southwestern Nigeria. Ph.D Thesis. Dept. of Early Childhood and Educational Foundation, University of Ibadan.
Olowo, G. M. (2020). Prevalence of drug abuse among pre-service teachers in colleges of education in Nigeria: Implications for educational administration. International Journal of Educational Research and Policy Making, 3(1), 499-510.
Oluwole, A. J., Adeleke, H. K., &, Babatunde, G. M. (2018). Crime and adolescent drug use in Lagos, Nigeria. Sociology International Journal, 2(2), 64-73. doi: 10.15406/sij.2018.02.00034.
Oshodi, O. Y., Aina, O. F., & Onajole, A. T. (2010). Substance use among secondary school students in an urban setting in Nigeria: Prevalence and associated factors. African Journal of Psychiatry, 13(1), 52-57. doi: 10.4314/ajpsy.v13i1.53430.
Sarkingobir, Y. 1, Dikko, M., Namalam, F., Umar, A., &, Ashafa, N. A. (2020). Evaluation of substance abuse among in-school and out-of-school youths in Sokoto State, Northwestern Nigeria. African Journal of Biomedical Research, 23, 361-365.
Trammel, R. L., Kurpius, S. E. R., & Metha, A. (1998). Suicide and substance abuse among student teachers. Journal of Alcohol and Drug Education, 43(2), 64–74. http://www.jstor.org/stable/45092178.
United Nations Office on Drugs and Crime. (2007). Drug abuse and drug dependence: Treatment situation. https://www.unodc.org/docs/treatment/CoPro/Web_Nigeria.pdf.
Yahaya, J. U. (2019). The effect of drug abuse among youth in Nasarawa Local Government, Kano State, Nigeria (2014 -2017). Journal of International Politics, 1(3), 42-54. https://www.researchgate.net/publication/340870498_The_Effect_of_Drug_Abuse_among_Youth_in_Nasarawa_Local_Government.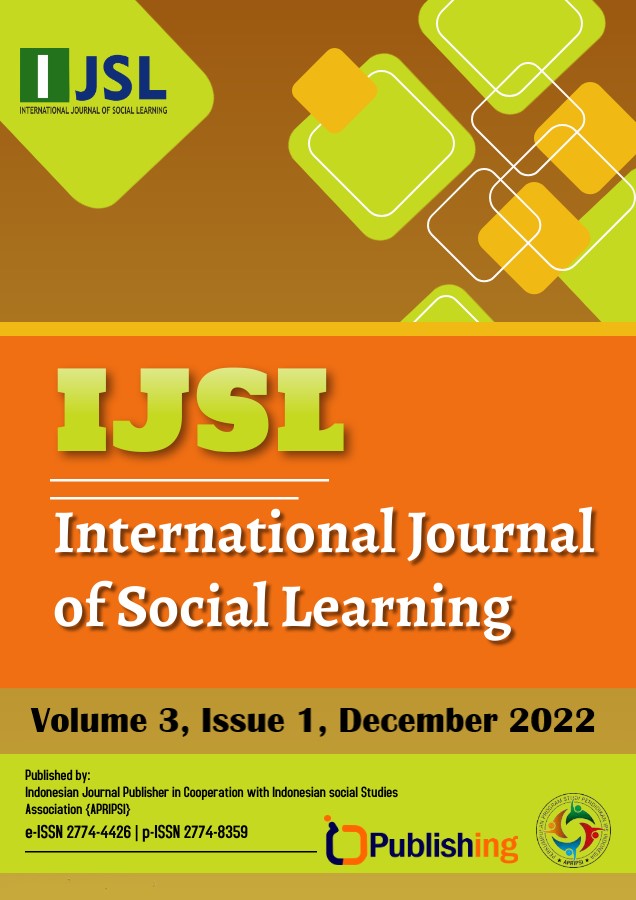 Downloads
How to Cite
Yomi, O. K. ., Adewale, A. P. ., & Kayode, O. P. . (2022). Do We Abuse Drugs? Reports of Social Studies and Early Childhood Education Student-Teachers in two Nigerian Colleges of Education. International Journal of Social Learning (IJSL), 3(1), 102–114. https://doi.org/10.47134/ijsl.v3i1.163