YouTube Videos as Supplementary Materials to Enhance Computer Troubleshooting and Repair Techniques for Senior High School Students in the Philippines
Keywords:
Multimedia Learning, YouTube Videos, Computer Troubleshooting, Repair Techniques, Computer Systems Servicing
Abstract
This study aimed to improve learners' academic performance in Computer Troubleshooting and Repair Techniques at Lal-lo National High School by using YouTube videos with teacher-made learning activity sheets as supplementary materials. The study employed a quasi-experimental design, particularly a one-group pretest and post-test design, in which the intervention was administered to the same participants. The result proved that the learners gained a higher mean on their post-test result than their pretest, indicating a significant difference between the pretest and post-test scores. Moreover, the intervention greatly affected the student's academic performance, particularly on the competency in Computer Troubleshooting and Repair Techniques. YouTube videos can help visual learners and students better understand a subject. These videos can catch students' imagination, especially when face-to-face learning is discouraged owing to the epidemic. The intervention material may be adapted by ICT, TLE teachers, and other disciplines.
Downloads
Download data is not yet available.
References
Abdul-Ganiy Kayode Ahmad. (2022). E-learning: An implication of COVID-19 pandemic for the teaching and learning of Arabic and Islamic studies in Ogun state's tertiary institutions. International Journal of Social Learning (IJSL), 2(2), 217-234. https://doi.org/10.47134/ijsl.v2i2.115.
Allen, M. (2017). The SAGE encyclopedia of communication research methods. SAGE Publications, Inc. https://dx.doi.org/10.4135/9781483381411.
Almobarraz, A. (2018). Utilization of YouTube as an information resource to support university courses. The Electronic Library, 36(1), 71-81. https://doi.org/10.1108/el-04-2016-0087.
Balbay, S., & Kilis, S. (2017). Students' perceptions of the use of a YouTube channel specifically designed for an academic speaking skills course. Eurasian Journal of Applied Linguistics, 3(2), 235-251. https://doi.org/10.32601/ejal.461003.
Boholano, H. B., & Cajes, R. (2021). The utilization of Facebook during the COVID-19 pandemic by first-year college students. International Journal of Social Learning (IJSL), 1(2), 162-171. https://doi.org/10.47134/ijsl.v1i2.52.
Buzzetto-More. (2015). Student Attitudes Towards The Integration Of YouTube In Online, Hybrid, And Web-Assisted Courses: An Examination Of The Impact Of Course Modality On Perception. MERLOT Journal of Online Learning and Teaching, 11(1), 1-19. https://jolt.merlot.org/vol11no1/Buzzetto-More_0315.pdf.
Dimaculangan, K.A.C., Abas H.T.H., and Quinto, C.S. (2022). Narrative Study of Teaching Strategies and Challenges Encountered by Teachers in Synchronous Online Classes. International Journal of Social Learning (IJSL), Vol. 2 (2) pp. 201-2016.
Ebied, M. M., Kahouf, S. A., & Abdel Rahman, S. A. (2016). Effectiveness of using YouTube in enhance the learning of computer in education skills in Najran University. International Interdisciplinary Journal of Education, 5(3 Part 2), 619-625. https://doi.org/10.12816/0035903.
Fadhil Abbas, N., & Ali Qassim, T. (2020). Investigating the effectiveness of YouTube as a learning tool among EFL students at Baghdad University. Arab World English Journal, 6, 344-356. https://doi.org/10.24093/awej/call6.23.
Habes, M., Elareshi, M., & Ziani, A. (2021). An empirical approach to understanding students' academic performance: YouTube for learning during the Covid-19 pandemic. Linguist. Antverp, 1518-1534.
Iftikhar, M., Riaz, S., & Yousaf, Z. (2019). Impact of YouTube Tutorials in Skill Development among University Students of Lahore. Pakistan Journal Of Distance And Online Learning, 5(2), 125-138. https://files.eric.ed.gov/fulltext/EJ1266671.pdf.
Insorio, A. O., & Macandog, D. M. (2022). Video lessons via YouTube channel as mathematics interventions in modular distance learning. Contemporary Mathematics and Science Education, 3(1), ep22001. https://doi.org/10.30935/conmaths/11468.
Karami, A. (2019). Implementing audio-visual materials (videos), as an incidental vocabulary learning strategy, in second/foreign language learners' vocabulary development: A current review of the most recent research. I-Manager's Journal on English Language Teaching,9(2), 60-70. https://10.26634/jelt.9.2.15519.
Klein, E. J. & Taylor, M. (2017). Teacher educators struggling to make complex practice explicit: Distancing teaching through video. Studying Teacher Education,13(3), 312-330. https://10.1080/17425964.2017.1366307.
Listiani, N. K. M., Suwastini, N. K. A., Dantes, G. R., Adnyani, N. L. P. S., & Jayantini, I. G. A. S. R. (2021, April). YouTube as digital learning resources for teaching bilingual young learners. In Proceedings of the 2nd International Conference on Technology and Educational Science (ICTES 2020) (Vol. 540, pp. 156-162).
McKay-Nesbitt, J., & Bhatnagar, N. (2017). Experimental Methods. In Formative Research in Social Marketing (pp. 89-106). Springer, Singapore.
Moghavvemi, S., Sulaiman, A., Jaafar, N. I., & Kasem, N. (2018). Social media as a complementary learning tool for teaching and learning: The case of YouTube. The International Journal of Management Education, 16(1), 37-42. https://doi.org/10.1016/j.ijme.2017.12.001.
Oddone, C. (2011). Using videos from YouTube and websites in the CLIL classroom. Studies About Languages, 0(18). https://doi.org/10.5755/j01.sal.0.18.417.
Orús, C., Barlés, M. J., Belanche, D., Casaló, L., Fraj, E., & Gurrea, R. (2016). The effects of learner-generated videos for YouTube on learning outcomes and satisfaction. Computers & Education, 95, 254-269. https://doi.org/10.1016/j.compedu.2016.01.007.
Pattier, D. (2021). Teachers and YouTube: The use of video as an educational resource. Ricerche di Pedagogia e Didattica. Journal of Theories and Research in Education, 16(1), 59-77.
Sakkir, G., Dollah, S., & Ahmad, J. (2020). Students' perceptions toward using YouTube in EFL classrooms. Journal of Applied Science, Engineering, Technology, and Education, 2(1), 1-10. https://doi.org/10.35877/454ri.asci2125.
Tadbier, A. W., & Shoufan, A. (2021). Ranking educational channels on YouTube: Aspects and issues. Education and Information Technologies, 26(3), 3077-3096.
Van Doorn, J., Ly, A., Marsman, M., & Wagenmakers, E. (2020). Bayesian rank-based hypothesis testing for the rank sum test, the signed rank test, and Spearman's ρ. Journal of Applied Statistics, 47(16), 2984-3006. https://doi.org/10.1080/02664763.2019.1709053.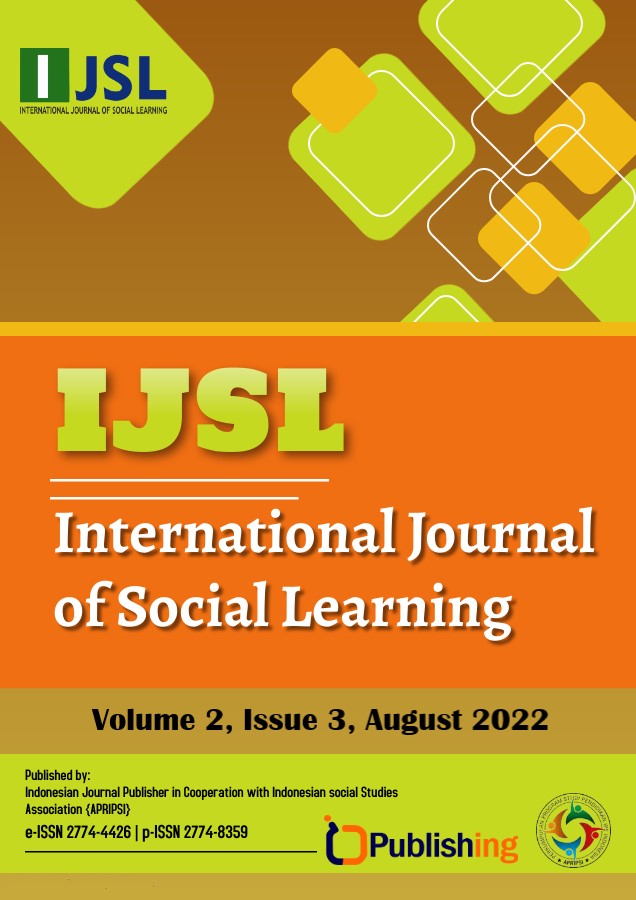 Downloads
How to Cite
Caratiquit, K. (2022). YouTube Videos as Supplementary Materials to Enhance Computer Troubleshooting and Repair Techniques for Senior High School Students in the Philippines. International Journal of Social Learning (IJSL), 2(3), 297–307. https://doi.org/10.47134/ijsl.v2i3.150