Henry Mintzberg's Business Management Strategy Post-Pandemic Covid-19 (Social Learning Approach on Ali Murah Shop Madinah)
Keywords:
Strategy, Business Management, Social Learning, Post Covid 19 Pandemic
Abstract
Small Micro Enterprises in retail sector is currently faced many problems, declining sales, difficulty in obtaining supplies, impeded dilivery and distribution, lack of information technology knowledge and business network barriers. This study aims to determine the business management strategies of Ali Murah Shop Madinah post Covid-19 pandemic as retail practice description in Madinah, Saudi Arabia. The study refers to Henry Mintzberg strategy (position, plan, perspective, project, dan prepare). Research type is descriptive and data collection methods using structured interviews conducted to 3 informan. This research also used social learning approaches to get deeply analysis. The data analysis technique used descriptive qualitative. The results of the study explained that business management strategy post pandemic Covid-19 Ali Murah Shop Madinah can be implemented in order to get improvement and sustainable development attached by management strengthening in marketing, human resources, finance and operations field as strategic steps to create an efficient and effective business existence. Furthermore, regarding social learning approaches, Ali Murah Shop Madinah are required to have good knowledge management and absorptive capacity especially in protocol which prevent Covid-19 transmission. Future research is expected to get empiricaly analysis for objective result obtaining that also supported by quantitative and qualitative analyze (mix methods).
Downloads
Download data is not yet available.
References
Barney, J. B., & Clark, D. N. (2007). Resource-based theory: Creating and sustaining competitive advantage. Oxford University Press on Demand.
Cahyaningtyas, F., & Ningtyas, M. N. (2020). Akuntan Outsourcing dan Kinerja UMK: Perspektif Resource Based View. Jurnal Riset dan Aplikasi: Akuntansi dan Manajemen, 4(2), 167-182.
Chaniago, S. A. (2014). Perumusan Manajemen Strategi Pemberdayaan Zakat. Jurnal Hukum Islam, 12(1), 87-100.
Creswell, Jhon W. (2016). Research Design: Qualitative, Quantitative, and Mix Methode Approach. Fourth Edition. SAGE Publication.
Haa, S Tong., Lob, M Chiun., dan Wang, Y Chai. (2016). Relationship between Knowledge Management and Organizational Performance: A Test on SMEs in Malaysia. Procedia- Social and Behavioral Sciences 224 (2016) 184 – 189.
Hadi, S., dan Supardi. (2020). Revitalization Strategy for Small and Medium Enterprises after Corona Virus Disease Pandemic (Covid-19) in Yogyakarta. Xi'an Jianzhu Keji Daxue Xuebao/Journal of Xi'an University of Architecture & Technology. April 2020.
Hadi, S., Tjahjono, H. K., dan Palupi, M. (2020). Study of Organizational Justice in SMEs and Positive Consequences: Systematic Review. International Journal of Advanced Science and Technology, 29 (03), 14.
Helmalia dan Afrinawati. (2018). Pengaruh E-Commerce Terhadap Peningkatan Pendapatan Usaha Mikro Kecil Dan Menengah di Kota Padang. Jurnal Ekonomi dan Bisnis Islam, Vol. 3 No.2.
https://en.m.wikipedia.org/wiki/Template:COVID-19_pandemic_data
Khotimah, K. (2017). Pandangan berbasis sumber daya (RBV) dalam pembahasan organisasi ekonomi. Masa Depan: Jurnal Manajemen dan Akuntansi, 5 (1), 178003.
Locke, E. A., & Latham, G. P. (2012). Goal setting theory. In Motivation: Theory and research (pp. 23-40). Routledge.
Müller, J Marius. (2018). Business model innovation in small- and medium-sized enterprises Strategies for industry 4.0 providers and users. Journal of Manufacturing Technology Management, Vol. 30 No. 8, 2019 pp. 1127-1142
Oktafia, R., dan Hidayat, AR. (2018). Penguatan Kapasitas Pelaku Bisnis Mikro Melalui Penataan Pengelolaan Keuangan Usaha: Pandangan Islam. Jurnal Masharif al syariah: Jurnal Ekonomi dan Perbankan Syariah, Vol. 3 No. 2
Pedersen, C., Lund dan Ritter, T. (2020). Preparing Your Business for a Post-Pandemic World. Hardvard Business Review.
Pradana, M. (2015). Klasifikasi jenis-jenis bisnis e-commerce di Indonesia. Neo-Bis , 9 (2), 32-40.
Prastiyanti, Dinda P., dan Yulianto. (2019). Media Promosi Pada Dinas Pariwisata Daerah Istimewa Yogyakarta Dalam Meningkatkan Kunjungan Wisatawan. Journal of Indonesian Tourism, Hospitality and Recreation, Volume 2, No. 2, October 2019
Putri, E. (2018). Pelatihan Pengembangan Diri Menjadi Wirausaha Mandiri dalam Efisiensi dan Efektifitas Produksi Karak Herbal di Cinderejo Kidul, Gilingan, Surakarta.
Rangkuti, F. (2013). Strategi promosi yang kreatif dan analisis kasus: Gramedia Pustaka Utama.
Rengkung, LR (2015). Keuntungan Kompetitif Organisasi dalam Tampilan Berbasis Sumber Daya Perpsektif (RBV). Agri-Socioekonomi, 11 (2A), 1-12.
Rowley, Jenifer. 2009. Conducting research interviews. Management research review, 35 nomor 3/4 (1): 260-271.
Sandiasa, G., dan Widnyani, I. A. P. S. (2017). Kebijakan Penguatan Lembaga Pemberdayaan dalam Meningkatkan Partisipasi Pemberdayaan Masyarakat di Perdesaan. Dalam Locus Majalah Ilmiah Fisip, 8, 64-78.
Savitri, F. M., & Indarto, I. Mediating Role of Strategy in the Relationship between Organization Learning and Business Performance. Jurnal Studi Manajemen Organisasi, 17(1), 1-19.
Septina. (2020). 7 Strategi Pemasaran Produk UKM saat Krisis Virus Covid-19. Jurnal Blog. https://www.jurnal.id/blog/7-strategipemasaran-produk-ukm-saat-krisis-virus-covid-19. 95
Setyawardani, T., Widayaka, K., Sularso, K. E., dan Wakhdiati, Y. (2019). Wirausahawan Muda Mandiri dengan Program Pengembangan Kewirausahaan di Universitas Jenderal Soedirman. Jurnal Surya Masyarakat, 2(1), 50-57.
Shahzad, A., Chin, HK. (2020). Malaysian SMEs Performance and the use of E- Commerce: A Multi-Group Analysis of Click-and-Mortar and Pure-Play E-Retailers. Pakistan Journal of Commerce and Social Sciences 2020, Vol. 14 (1), 01-33.
Sikki, K. L. (2020). Kebijakan Ekonomi Arab Saudi dalam Mengantisipasi Pandemi Covid-19. Journal of Islamic Civilization, 2(1), 8-16.
Simatupang, B. (2013). Tinjauan Komplementer Pengaruh Teori Tampilan Berbasis Pasar (MBV) dan Tampilan Berbasis Sumberdaya (RBV) terhadap Strategi dan Kinerja Perusahaan. Binus Business Review, 4 (1), 322-330.
Sternad, D., Krenn, M., dan Schmid, S. (2017). Business excellence for SMEs: motives, obstacles, and size-related adaptations. Total Quality Management & Business Excellence, DOI: 10.1080/14783363.2017.1300054.
Sumiati, Rofiq, A., dan Pramono, S. (2019). The Role of Strategic Planning and Flexibility in Shaping SMEs Market Orientation in Turbulence Business Environment. European Research Studies Journal Volume XXII, Issue 1, 2019 pp. 221-236.
Tasruddin, R. (2015). Strategi Promosi Periklanan yang Efektif. Jurnal Al-Khitabah, 2(1).
Wahyuni, Endang D., dan Wibawani, S. (2020). Pemberdayaan Pengurus Aisyiyah dengan Penguatan Manajemen Bisnis. Jurnal Pengabdian dan Peningkatan Mutu Masyarakat, vol 1 no 1, p. 13-17. http://ejournal.umm.ac.id/index.php/janayu.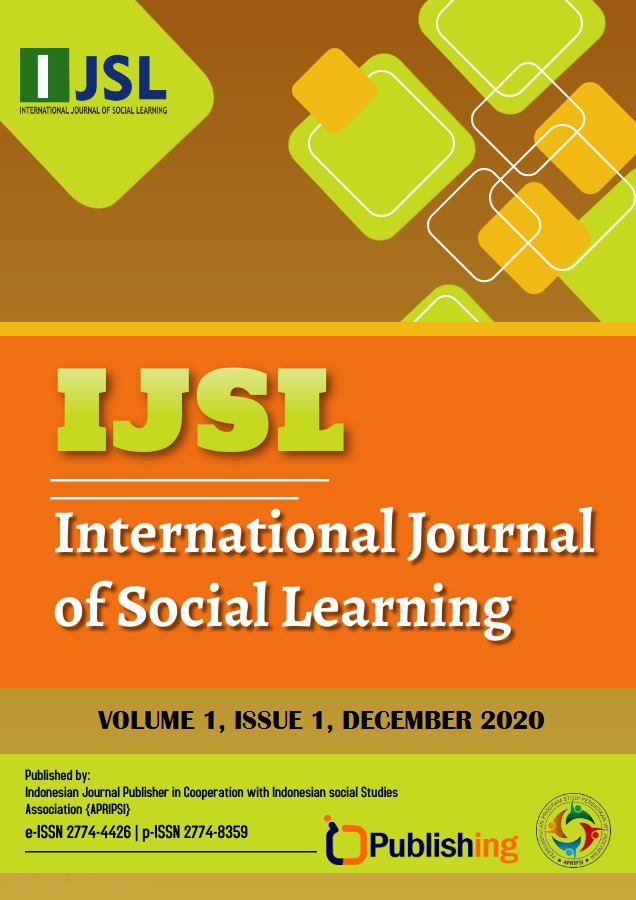 Downloads
How to Cite
Savitri, F. M., & Naili, Y. T. (2020). Henry Mintzberg's Business Management Strategy Post-Pandemic Covid-19 (Social Learning Approach on Ali Murah Shop Madinah). International Journal of Social Learning (IJSL), 1(1), 62–74. https://doi.org/10.47134/ijsl.v1i1.5