Curriculum Evaluation: Inputs for Principal's Instructional Leadership
Gilbert S. Arrieta

Philippine Normal University, Manila, Philippines
Keywords:
Curriculum Evaluation, Instructional Leadership, Collaborative Process, Professional Development
Abstract
One of the most important components in education is the curriculum. It undergoes evaluation and development to be responsive to the needs of the times. It adapts to the kind of teachers and learners because teaching and learning are dynamic. The main drivers of the curriculum are the education leaders primarily the principals who are the instructional leaders. The main task of the principal is instructional leadership which means overseeing the teaching and learning process starting with the curriculum. However, the administrative tasks of the principals deprive them of becoming effective instructional leaders. This study aims to present the experiences of the researcher in curriculum evaluation under different principals in a private sectarian school in Manila and seeks to identify how principals can take a strong leadership presence in the challenges in instruction and curriculum evaluation. A critical reflection which is an extension of "critical thinking" and asks us to think about our practice and ideas and then it challenges us to step back and examine our thinking by asking probing questions was used as the method in this study. The researcher looks back into his experiences and identifies the key points in curriculum evaluation vis-à-vis the tasks of instructional leadership. It found out that curriculum evaluation, primarily an integral part of instructional leadership. The principals have to do curriculum evaluation as a collaborative task and process. Moreover, curriculum evaluation with instructional leadership should be giving importance to professional development and mentoring of academic heads and teachers.
Downloads
Download data is not yet available.
References
Adin-Surkis, A. (2015). Teachers evaluate the new curriculum in English: Views regarding evaluation and evaluation tools. Research in Education, 93(1), 34-59.
Bago, A. L. (2008). Supervision of Instruction: The Philippine Perspective. Quezon City: De La Salle University Press.
Blase, J., & Blase, J. (1999). Principals' instructional leadership and teacher development: Teachers' perspectives. Educational administration quarterly, 35(3), 349-378.
Bilbao, P. et al. (2008). Curriculum Development. Quezon City: LORIMAR Publishing Co.
Boyle, B., & Charles, M. (2016). Curriculum development: A guide for educators. Sage.
Collins, J. (2001). Good to Great. New York: HarperCollines Publishers, Inc.
Department of Education. (2020). Guidelines on the use of the most essential learning competencies (MELCs). https://commons.deped.gov.ph/MELCS-Guidelines.pdf
Fook, J. (2011) Developing Critical Reflection as a Research Method. In: Higgs J., Titchen A., Horsfall D., Bridges D. (eds) Creative Spaces for Qualitative Researching. Practice, Education, Work and Society, 5. https://doi.org/10.1007/978-94-6091-761-5_6
Friedman, I. A. (2002). Burnout in School Principals: Role Related Antecedents. Social Psychology of Education 5, 229–251. https://doi.org/10.1023/A:1016321210858
Fullan, M. (Ed.). (2003). The moral imperative of school leadership. Thousand Oaks, California: Corwin Press.
Hallinger, P. (2018). Principal instructional leadership: From prescription to theory to practice. The Wiley handbook of teaching and learning. New Jersey: Wiley-Blackwell. 505-528.
Hallinger, P. H. I. L. I. P. (2012). A data-driven approach to assess and develop instructional leadership with the PIMRS. Tools for improving principals' work, 47-69.
Horng, E. et al. (2009). Principal Time-Use and School Effectiveness. Institute for Research on Education Policy & Practice. Standford: Stanford University.
Jenkins, B. (2009). What it takes to be an instructional leader. Principal, 88(3), 34-37.
Le Fevre, D, &. Robinson, V. M. J. (2015). The interpersonal challenges of instructional leadership: Principals' effectiveness in conversations about performance issues. Educational Administration Quarterly, 51(1), 58-95.
McCormick, R., & James, M. (2018). Curriculum evaluation in schools. London: Routledge.
Mestry, R. (2017). Principals' perspectives and experiences of their instructional leadership functions to enhance learner achievement in public schools. Journal of Education, 69, 257-280.
NQESH. (2015). A Reviewer for the National Qualifying Examination for School Heads: 2nd edition. Manila: Philippine Normal University.
Sebastian, J., & Allensworth, E. (2012). The influence of principal leadership on classroom instruction and student learning: A study of mediated pathways to learning. Educational administration quarterly, 48(4), 626-663.
Sergiovanni, T., & Starratt, R. (2007). Supervision: A Redefinition 8th edition. New York: McGraw-Hills Co.
Stronge, J. H., Richard, H. B., & Catano, N. (2008). Qualities of effective principals. Virginia: ASCD.
Smith, M. K. (2000). Curriculum theory and practice. The encyclopedia of informal education.
Turnbull, B. J., Haslam, M. B., Arcaira, E. R., Riley, D. L., Sinclair, B., & Coleman, S. (2009). Evaluation of the School Administration Manager Project. Washington DC: Policy Studies Associates, Inc.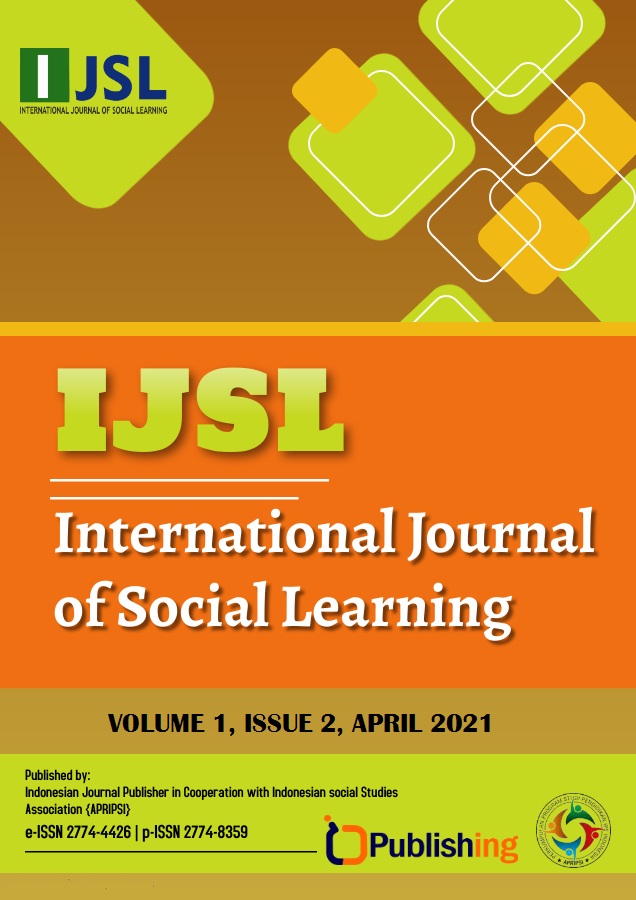 How to Cite
Arrieta, G. S. (2021). Curriculum Evaluation: Inputs for Principal's Instructional Leadership. International Journal of Social Learning (IJSL), 1(2), 147-162. https://doi.org/10.47134/ijsl.v1i2.45